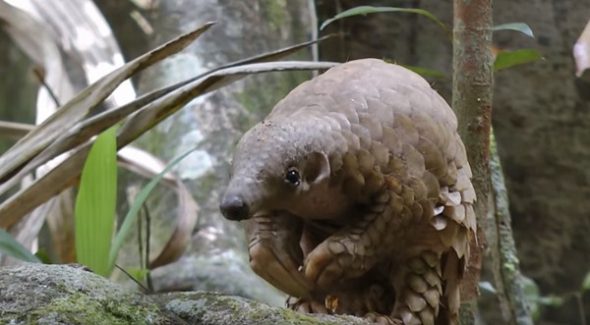 76 pangolins smuggled into Thailand rescued by Thai police
Pangolins, the world's most trafficked animal, are often found in trucks and vans in Thailand. Being smuggled by usually poor Thais, who are paid by smugglers to do so.
The latest pangolin smuggling incident was this week, when Thai police discovered 76 pangolins in the back of a man's truck at a police checkpoint in Prachuap Khiri Khan province. The animals were stuffed into sacks, and then tied into mesh bags to prevent their escape.
The man, 45-year-old Somphol Mekchai, was charged with animal trafficking. Traffickers caught in Thailand can receive up to four years in jail, and a fine of 40,000 baht.
Somphol told police the pangolins had been sent to Thailand from Indonesia. He was driving them to a nearby cargo ship, where they would then be transported to China. Here they would be used for the traditional medicine so many Chinese still believe in, or killed for their meat, which is considered a delicacy in China.
He also said it was his third time trafficking pangolins for the same people.
Police stopped Somphol's truck at the checkout and, when they noticed a smell coming from the back of it, investigated further. The 76 pangolins were discovered hidden among construction material in the bed of the truck.
After being cut out of the netting and sacks, the pangolins were taken to a wildlife center in Petchaburi, under the care of the Department of National Parks, Wildlife and Plant Conservation.
As the world's most trafficked animal, it is estimated more than 1.2 million pangolins have been trafficked since 2006. So much so, all eight species of the pangolin are now at risk of extinction.
All commercial trade in pangolins has now been banned across the globe, yet they still continue to be poached.
For more on pangolins smuggled in Thailand and beyond, watch the short National Geographic video below.
Related Reading: Thai truck driver caught smuggling 16 tiger cubs destination China