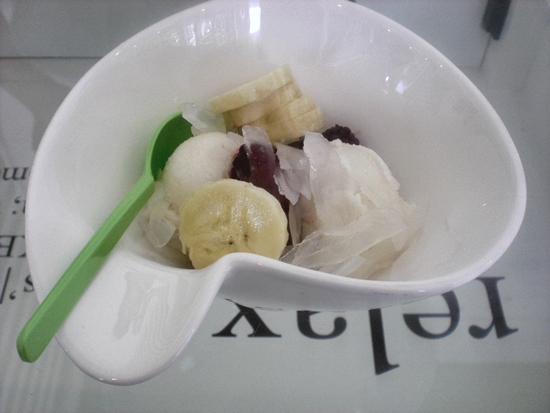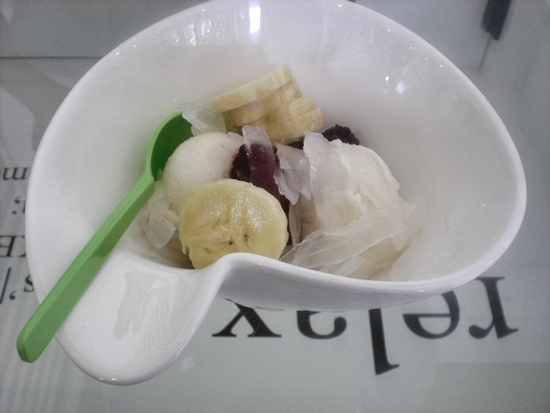 Ignoring the odd-sounding name, Absolute'ry Yoghurt at Bon Marche Market in northern Bangkok, Thailand serves some of the healthiest, low-fat frozen yoghurt you've ever tasted. You can grab a bowl of a couple of scoops of low-fat plain yoghurt, a couple of scoops of home-made low-fat ice-cream and top it all off with chunks of ice, fresh bananas, blueberries, strawberries, coconut jelly, cranberries or mango — and you've just eaten one of the healthiest frozen low-fat snacks in Bangkok. It's delicious too.
Oddly, frozen yoghurt in Bangkok isn't that popular a snack as Thais tend to go for ice-cream instead (most are so skinny, they really don't need to worry about the calories). But, there are some frozen yoghurt shops in Bangkok and, if you find a good one like Absolute'ry Yoghurt, they serve some of the tastiest and healthiest frozen yoghurt and low-fat ice-cream you'll ever eat — right up there with the best you'll find in America, Italy or England.
Abolute'ry Yoghurt is just a small frozen yoghurt shop with only a few tables, located on the outer ring of the very popular upscale northern Bangkok market, Bon Marche (Talad Bon Marche). It's popular at any time of day, as Thais (and the westerners living in the area) seem to enjoy a dessert that looks decadent but isn't at all as everything they sell is home-made with no preservatives or junk added. Prices too are low, with a bowl of frozen yoghurt, ice cream and a choice of three fresh fruit toppings going for around 80 baht ($2.75).
As for its peculiar name, Absolute'ry Yoghurt, seems to have had its r and l sounds mixed up when the owners came up with the name, which is actually quite common for Thais, but as a quaint Thai 'Thinglish' name, it is quite cute.
If you're in the mood for an excellent bowl or cone of frozen yoghurt or home-made low-fact ice-cream, you really musn't miss Absolute'ry Yoghurt in northern Bangkok. You'll find them at P.2, Bon Marche' Market, Tetsabarn Songkroa, Ladyao, Jatujak, Bangkok, 10900.