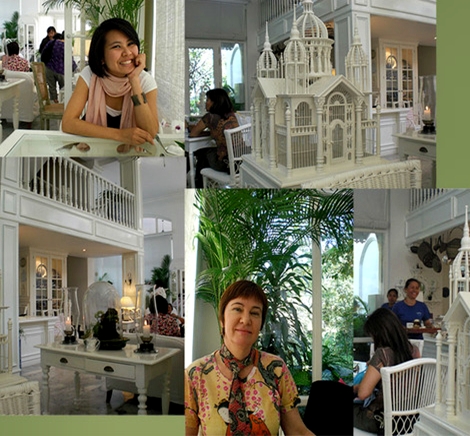 One of Bangkok's most popular and supremely beautiful coffee and tea houses is Agalico. Agalico is on Sukhumvit Soi 51, near the sky train so is very easy to get to. It's located in a quite plain looking white building in a quiet soi. But, when you open the door and go inside you're transported to a world of Burmese-style tea houses where high ceilings and pristine whiteness mix well with English high teas, scones, and Earl Grey tea.
On through the café, you'll go out into a wide leafy garden replete with wrought iron furniture and a conservatory. Agalico is hi-so (high-society), which is not surprising since it's owned by one of Bangkok's top landscapers and interior designers, ML Poomchai Chumbala, who's also a member of the Thai royal family. ('ML' is actually an abbreviation for 'Mom Luang' and is a title given to someone who is a descendant of the Thai royal family.)
Agalico is only open three days a week (Friday through Sunday) as Khun Poomchai runs it purely because he loves it and not as a money-making business. Isn't that lovely?
Agalico opened ten years ago, when Khun Poomchai decided he wanted to open a tea and coffee house in Bangkok that celebrated his love of tea. He lived in England for many years and loves tea.
Agalico actually means 'timeless' in Sanskrit and you definitely get that feeling when you're in there. It's like going back a hundred years, to a time when there wasn't the rush and bustle of the modern world, and people spent their time relaxing over a pot of tea and cucumber sandwiches, and not worrying about their next meeting or how fast they could check e-mail.
I went to Agalico the first time a few weeks ago with a Thai friend. She had been there before, so it was easy to find although, even if you're a first timer at Agalico, it's simple to get there because the soi it's located on is so close to the sky train.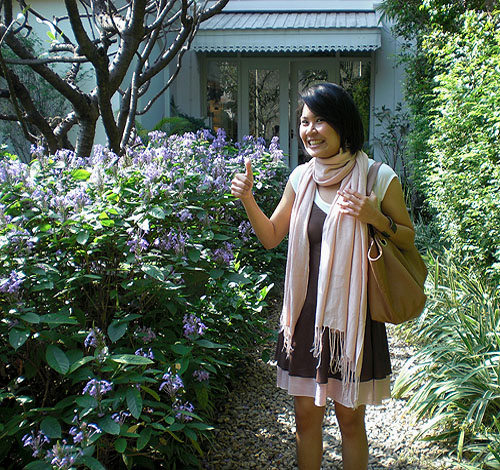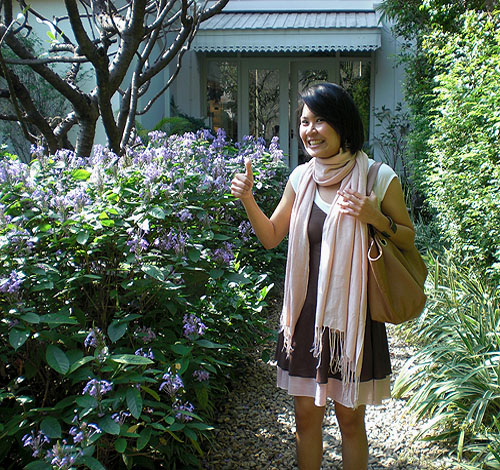 When you walk into Agalico, you're immediately surprised by how open, white and huge it is. It's apparently based on a Burmese-style English tea room (interesting combination of ethnicities!), so celebrates shiny pale floors, white walls and enormously high ceilings. There's a large staircase that goes up onto another floor and, to your right, is the counter. It too is white and stocked with home-baked cakes and scones on glass cake stands, and a delightful woman behind the counter who takes your order.
Greenery and ferns are dotted all around the café, so you get a feeling of the outdoor inside. Once we'd ordered, we walked through Agalico and out of the back door as we'd decided to sit in the large garden.
Agalico's garden is simply lovely. Little pathways made up of grey pebbles meander around it and, in between bushes, shrubbery and pretty flowers, you'll see small wrought iron tables and chairs dotted everywhere. Privacy is easily attainable here as almost every table is sheltered and discrete. Further down the garden is a small conservatory or greenhouse, where you can also sit although, when we checked it out, it was so incredibly hot in there with all the glass and the Bangkok heat, we would have par-boiled if we'd actually sat in it. On a cooler day though, sitting in it would be splendid.
After we had walked around the garden, we decided it was just too hot that day to sit outside so went back into Agalico and took a table by one of the windows. Not only the interior but also the tables are pretty, as they're glass topped with displays of postcards, photos, memorabilia and bric-a-brac below the glass.
The waitress arrived soon after with what was one of the nicest lattes I've had in Bangkok and a slice of blueberry cheesecake for me and chocolate cake for my friend. As I've heard that ML Poomchai Chumbala bakes the cakes himself, if that's true, I have to congratulate him as they really were delicious.
It was extremely pleasant to be able to sit in this perfect old-fashioned style tea house, enjoy a nice drink and a cake, and chit chat with my friend, without feeling any pressure to leave. I loved Agalico so much it's now become one of my favorite places in Bangkok and I'll be returning there often.
As I mentioned, Agalico is only open from Friday to Sunday and it's probably a good idea to make a reservation as it's very popular. We visited over the New Year's holiday when Bangkok is empty but, on a normal weekend, it's likely to be pretty busy so calling ahead for an appointment might be preferable.
Agalico is near Thong Lor BTS (sky train) station. Just get off the sky train at Thong Lor and, if you came from the Siam station direction, walk back in the direction you came from. Sukhumvit Soi 51 is the second soi on your right hand side, and Agalico is on your right just a block and a half up.
Price-wise, a latte is around the same price as Starbucks (maybe 25 cents more expensive) and a slice of gateaux or cheese cake about $2.75. Well worth it for the sophistication and elegance that Agalico offers. It truly is an oasis of calm in a city of craziness.