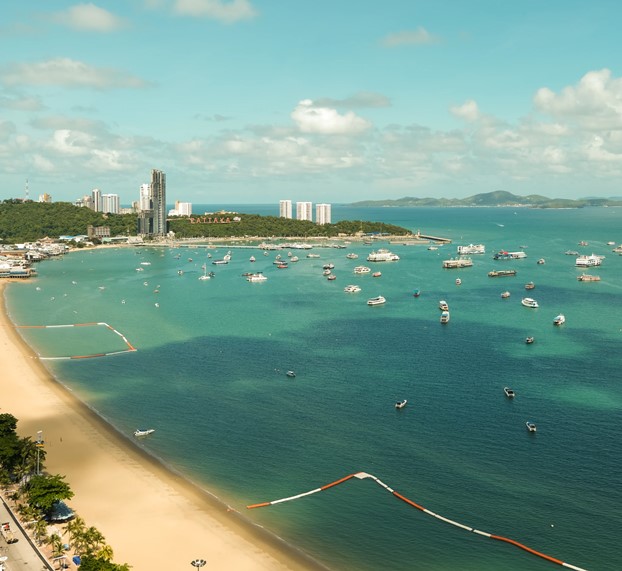 As study after study continues to prove lockdowns do not stop the spread of a virus, Chonburi province reports a record almost 800 Covid-19 infections.
Almost 800 new cases of Covid in Chonburi, even though most of the province has been locked down for at least a week, and restrictions are still being tightened almost daily.
With 795 new cases of Covid-19 reported in Chonburi this morning, restrictions now include the closure of most shops, sports and exercise facilities including gyms, beaches, parks, swimming pools and playgrounds, and restaurants and cafes.
Mainly places that allow people to get outside in the fresh air, and not remain cooped up in their apartments where they have much more of a chance of contracting Covid from the people they live with than outside on a beach,
Domestic travel to and from Chonburi has also been halted, with buses and flights all banned.
A full lockdown in Chonburi province?
With Chonburi now seeing record numbers of Covid-19 infections, there is also talk of a full lockdown for several weeks in an attempt to stop the virus spreading further.
A full lockdown that will decimate Chonburi's economy even more as these lockdowns increase in strength.
The latest Chonburi Covid infections were discovered in Phanant Nikhom and Mueng Chonburi districts. They were found in markets, construction camps, in various businesses and in four communities.
Businesses that were immediately closed, and most staff mandated to stay in makeshift 'field hospitals' on site.
The number of deaths still remains low, however, with just 96 people having died of Covid-19 since infections began to rise in early April.
Cases of Covid-19 in Chonburi province have been increasing almost daily since April 10th, with the latest spike of new infections occurring on July 17th.
The mortality rate, however, still remains low.
Meanwhile, much of Thailand's economy is in freefall, with millions of Thais now unemployed due to these lockdowns, and tens of thousands of businesses in places like Chonburi's Pattaya permanently closed.
Sadly, Chonburi, along with most other Thai provinces, will continue to see the same falling economy as lockdowns continue.
Expect the economy to worsen even further as lockdowns are strengthened.