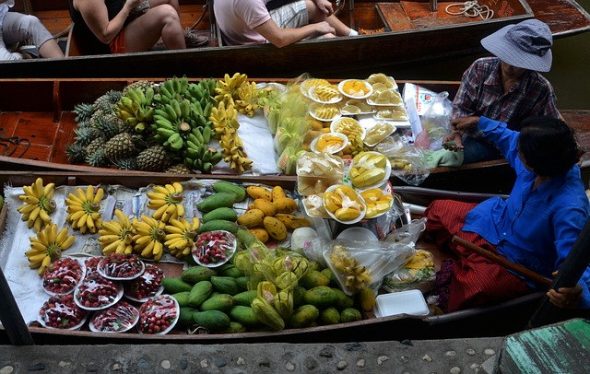 Amphawa Floating Market just outside Bangkok is authentic Thai — and so much fun
Recently, I visited Amphawa Floating Market with a group of Thai friends.
Amphawa Floating Market, (also known as Ampawa) is Thailand's largest and best floating market. It is around a 90-minute drive from Bangkok in Samut Songkram Province but is worth it, as it is the best floating market in the country.
Unlike Damneon Saduak, Bangkok's popular tourist floating market, Amphawa Floating Market is also predominantly for Thais. In fact, during the six hours we were there, out of probably 50,000 people, I saw two westerners. So, if you want the true Thai experience when it comes to a floating market, Amphawa Floating Market is the one to visit.
Getting to Amphawa Floating Market – As of now, there don't seem to be any tour groups that go to Amphawa and taking a bus would take a long time and would probably involve several changes. The best way to get there, therefore, if you don't have a Thai friend who will drive, is to hire a taxi.
A taxi driver will not only take you to Amphawa Floating Market, but he will wait for you until you want to go back to Bangkok too, and at a cost of around $30 for 3-4 people, it is a really good deal.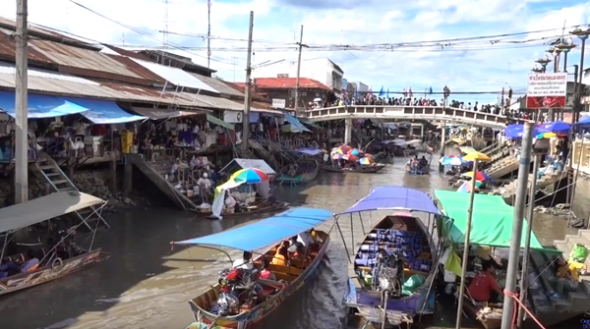 When You Arrive At Amphawa Floating Market – Amphawa Floating Market really gets going around 1pm, with most of the stalls being open by 4pm. The best time to arrive is between 1 and 2pm as there are less people there. By 4pm, it is crowded and, as the walkways are very narrow, it is difficult to see the stalls and difficult to walk around.
When you get there, I recommend you walk the length of the main street first. There are little shops and stalls on either side and eventually you will come to a narrow bridge, which you can walk over and then continue on to the end of the street.
Walking over the bridge, you will see the floating market itself, with shops and restaurants on the bank as far as the eye can see. Once you have reached the end of the main street, turn around, come back to the river and then walk to either the right or the left.
It doesn't matter which way you go as there are several bridges further down the canal so you can cross over and walk back down the other side.
Places to Eat and Drink at Amphawa Floating Market – The food and drink is amazing at Amphawa Floating Market.
When we got there, we started out getting coffee at a small coffee shop just before you walk over the bridge across the river. The shop had postcards all over the walls, served excellent ice coffee for 45 cents and even had a professional photographer, who would take your photo and print it while you wait for 35 baht ($1). We had five photographs taken.
There are also many other cool coffee shops, restaurants and pubs. We had coffee later in a little traditional Thai house, renovated for homestay, which had opened for the first time. Later on, we went to a huge wooden pub right by the water and had beer and snacks.
As far as eating, there are open air restaurants and food stalls everywhere as well as the boats, which you can wave over and they will cook the food you choose right there on the boat. Pad thai, curry and noodles, chicken and rice, squid, pancakes, fruit, oysters, Thai snacks, dried plums, chicken satay and thousands more dishes, all priced between 50 cents and $1.25.
What to Buy at Amphawa Floating Market – I spent an absolute fortune at Amphawa as it is true Thai price, not tourist price, so everything is very cheap.
Look for Thai snacks (all beautifully packaged and for less than 50 cents a bag), t shirts, jewelled silk flip flops, framed photos and prints, old-fashioned wind-up tin toys, clothing, garden ornaments (I bought an adorable hand-crafted clay rabbit for only $2), toys, hats, silk scarves and shawls, rings and bracelets, photograph frames, and thousands more items.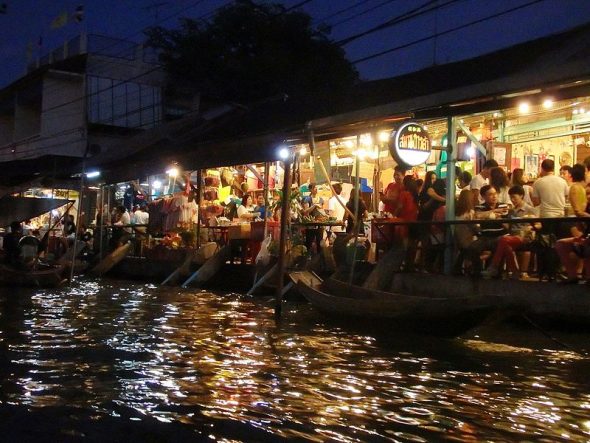 Best Time of Year to Visit Amphawa Floating Market – If you go in the summer, yes, it will be incredibly hot. Plus, once it gets crowded, it is even hotter and for those not used to the Thai weather, it can be uncomfortable.
That is why the best time of year to visit Amphawa is probably between the end of September and end of February, before the weather starts to warm up. But, you can of course go during the hot season. Just make sure you wear loose clothing, and drink a lot of liquids.
For the best floating market in Thailand, you really cannot beat Amphawa Floating Market. So take your friends, and also your camera, and you will get fabulous photos, have a fun time, and buy some cool, cheap stuff too.
Want to learn more about Amphawa Floating Market, and what you can expect to see and do there? Check out the excellent video below from Our Life Thai.
Related Reading: How to survive Chatuchak Weekend Market — Thailand's largest open-air market