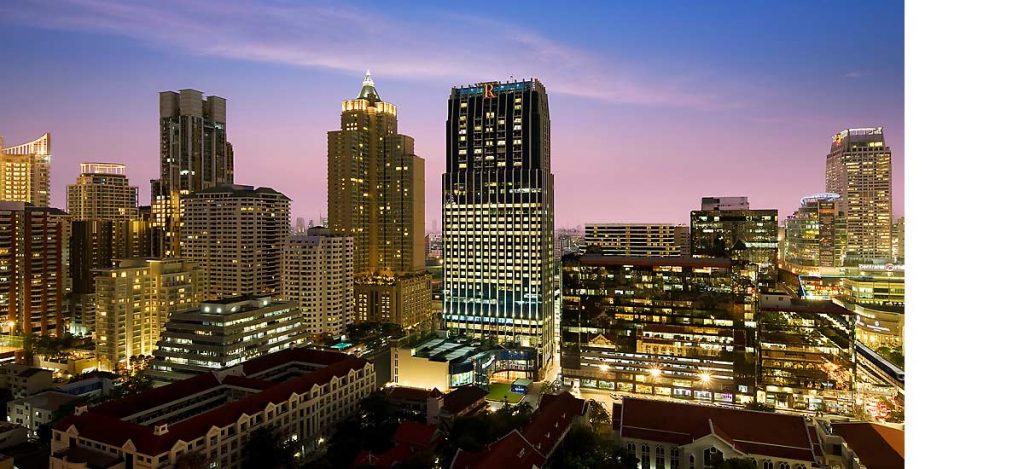 I'm a great proponent of Bangkok's 3 and 4-star hotels as so many of them are wonderful. The standard of accommodation, comfort, and customer service are exceptional in Thailand's capital city, particularly when you factor in the far cheaper price than in a similar hotel in a western city. So, if Bangkok has so many wonderful, and cheap, 3 and 4-star hotels, is it worth spending the money on a 5-star hotel? Or should you not bother?
Let's put it this way –
The price difference between a 4-star and a 5-star hotel in Bangkok can be upwards of $100 a night but, in many cases, the standard of accommodation, facilities, amenities, food and customer service isn't that much different.
In a 3 or4-star hotel, for instance, you'll get a spacious room, an en suite bath usually with a shower and a tub, and yes, sometimes a Jacuzzi, Wi-Fi internet, flat screen TV with DVD player, mini safe, mini bar, tea and coffee making facilities, trouser press and and on and on.
In a 5-star hotel, for $100 more, you might get a more 'upscale' name (think The Oriental as compared to the Millennium Hilton) – seriously, do you really care?, and a few extra 'fancy things' in your room (iPod dock, stereo speakers, that kind of thing…), and sure, the room might be a bit larger. And the service you'll get will definitely be more of the "absolutely kiss your rear" type of thing.
But…..in Bangkok, one of Asia's most exciting cities, other than sleep at your hotel, you'll be lucky if you spend more than an hour there a day. An hour a day………… for an extra $100?
If that was me, I'd be spending the 100 bucks on a couple of meals in amazing restaurants (like Kuppa, or Crepes and Company), or on clothing shopping at one of Bangkok's incredible markets or shopping malls. Or how about a luxury treatment at one of Bangkok's world-class spas?
For me, the decision is easy.  Go for the 5-star if you plan on spending most of your day in your room.
If you'll be touring Bankok and having fun, checking out all the sights, eating at superb restaurants, and shopping at one of the world's biggest upscale malls  – the 4-star hotel will give you a beautiful room, in a great location, and one that's stocked with lots of extra goodies. The 5-star hotel? An absolute waste of money.