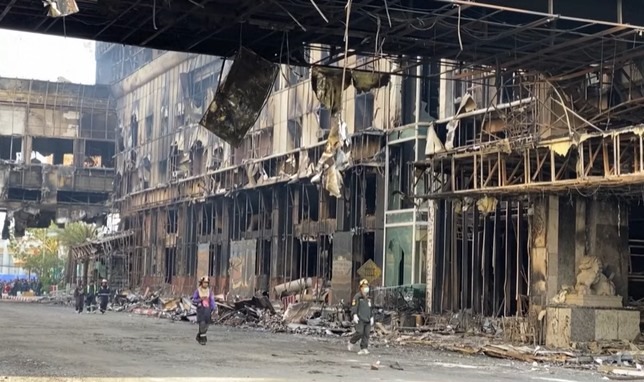 At least 17 Thais were killed in a Poipet casino fire, which began around midnight on Wednesday 28th December, 2022, burned for more than 12 hours, and took until 2pm on the 29th December to extinguish.
Another 10 people also died in the Grand Diamond City hotel-casino fire, with officials warning up until late yesterday that there may still be other bodies discovered in the now-destroyed building.
Since then, however, rescue services say they have carried out a complete sweep of the casino, and do not expect to find any more bodies.
The Grand Diamond City Casino itself employed around 400 people.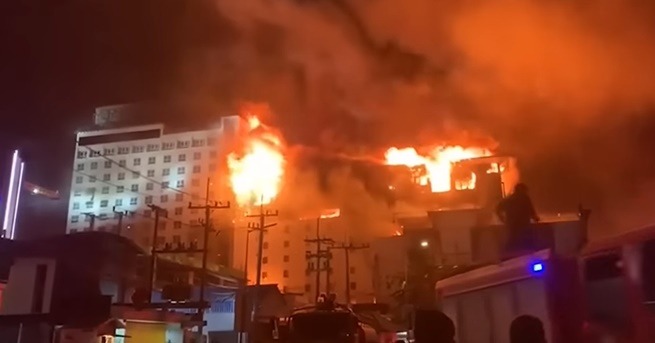 Electrical fault to blame for Grand Diamond City Casino fire
Cambodian authorities have also reported this weekend their investigation shows it was an electrical fault that was to blame for the inferno that began in the casino, and quickly spread throughout the structure.
Fire and rescue services, however, took too long to access every part of the building due to its complex and quite confusing structure.
A lack of rescue and fire equipment was also blamed for the tragedy, with neighboring Thailand having to send five fire trucks, 10 rescue vehicles and fire personnel to help.
The Sky News video at the bottom of this article shows the blazing inferno, as well as the devastation the following day, once the flames had been extinguished.
As of early Saturday morning, the bodies of 17 Thais have been identified, as well as one Nepalese national, and one Malaysian.
The nationalities of the remaining eight deceased have not yet been identified, primarily due to the severity of their burns.
According to Sa Kaeo province's Disaster Prevention and Mitigation Office, another 112 people were injured in the fire, with 27 still in hospital as of late Friday evening.
While no charges have been brought against the owners of the Grand Diamond City hotel and casino as of yet, Cambodian authorities have said they have not ruled them out.
Poipet, Cambodia is a four-hour drive from Bangkok and, as gambling is illegal in Thailand, it is a popular destination for Thais.
Many every year make the eight-hour roundtrip journey so they can spend a day or two gambling in one of the various casinos situated only meters from the Thai-Cambodian border.
Visa run companies also use the hotels on the Cambodian side of the border, as the foreign nationals who use their services will wait several hours in one of the casinos while their new visa stamps are being processed.