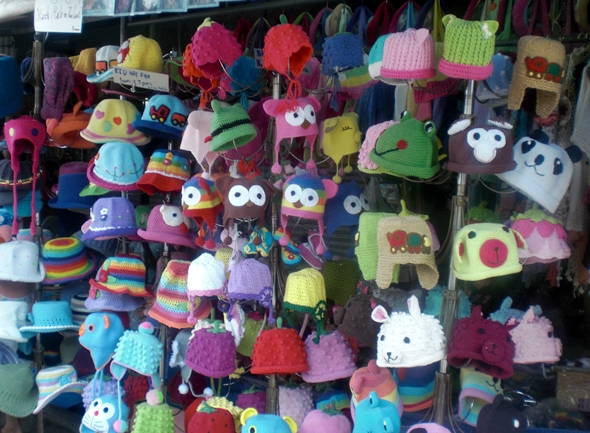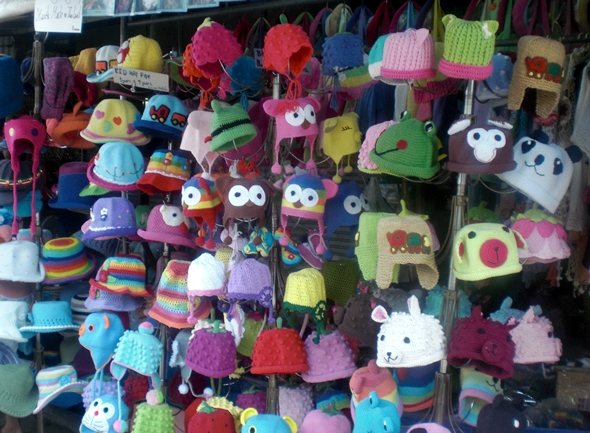 Chatuchak Weekend Market (also known as Jatujak by the locals) is a large outdoor market in northern Bangkok, Thailand.
I have heard differing numbers of stalls from many sources but let's just say this…….if you want to see between 12,500 and 14,000 stalls, Chatuchak is for you!
The market is located next to the Mo Chit sky train station, so is easy to get to. The MRT underground train system also has two stops that service Chatuchak – Chatuchak Park, which brings you into the park next to the market and Kamphaeng Phet, which opens up right into the market itself.
The market is open on Friday evenings, and all day Saturday and Sunday. Some people will tell you it opens at 7am on the weekends but really, other than food stalls, there is not much going on until at least 9am. The sellers begin to close at 6pm-7pm and everything is pretty much over by 9pm.
There are a few bars and restaurants that will stay open until 10pm.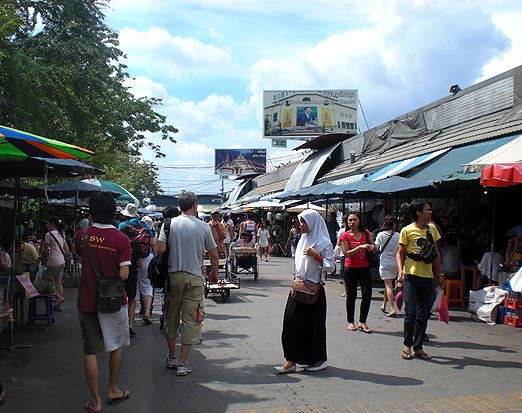 Survival at Chatuchak Market is an art and here are 10 points to help you learn that art:
1) Arrive early. Best arrival time is about 9:30 am on a weekend. That will give you time to grab a quick breakfast and a drink before you hit the stalls. It starts to become crowded by noon, and by 2pm is pretty much unbearable. Sunday is even busier than Saturday, so if you can't get there till the afternoon try to make it a Saturday afternoon.
2) Don't bring a purse and be careful of your wallet. Thailand is the safest country I have ever been to. However, like anywhere, there are sometimes problems with pick pockets and Chatuchak is notorious for it.
I know one Westerner who lost almost $2,000, taken out of his wallet while he was trying to decide on which diamond ring to purchase for his girlfriend.
You don't need a purse, only money, which you should put into your front pocket or in a money pouch. Preferably split it into two sections so, if you have the unfortunate experience of having your pocket picked, all of your money doesn't disappear in one fell swoop.
And men, don't put your money in your back pocket. Seriously, only the very naive do that! Front pocket, split into two lots.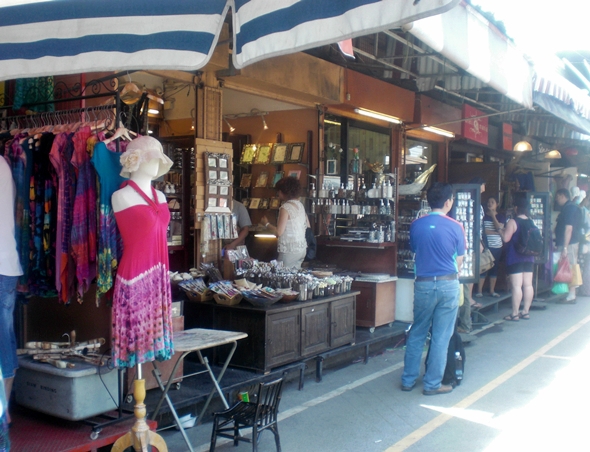 3) Stay hydrated but no need to bring water. Out of the 12,000-plus stalls, about 8,000 of them sell water. No joke! So if you are dying of thirst, which you will be, you can grab a bottle for 10 baht (about 25 cents). You can also buy shakes, fruit juices, coke, Pepsi, iced coffees and teas, beer, wine and pretty much anything else you could want. There are also public toilets, so drink as much as you like!
4) Get a map. There are free maps available at the information counter at the main gate. Take one. Chatuchak is a maze, which makes it difficult to find things if you don't know where you're going. Each section has specific things eg: clothing, silks, shoes etc. so it is easier to find things if you know what each section sells.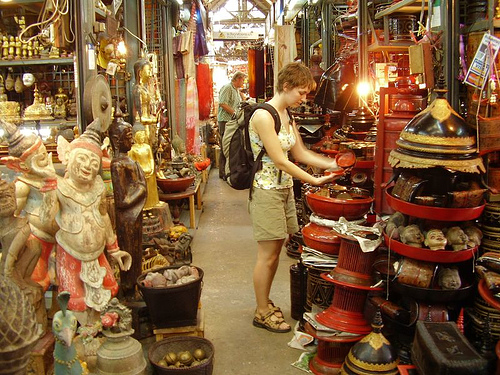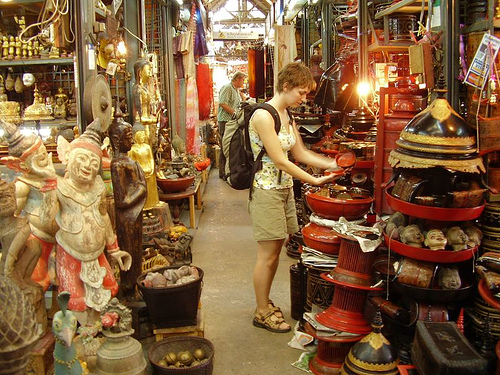 5) If you like something, buy it. Don't wait to see if you will find a better price on an item you like. You might, you might not. But I guarantee you that you will never find the first stall again if you don't!
6) Bargain. Part of the fun is bargaining. Don't be insulting but do try to knock them down. Some stalls do have a fixed price and will not bargain, but most will. A good place to start is to offer about 70% of the original price. The seller will counter offer, but you can usually get them down by 15-20%. If you buy more than one of an item, you will get an even better price.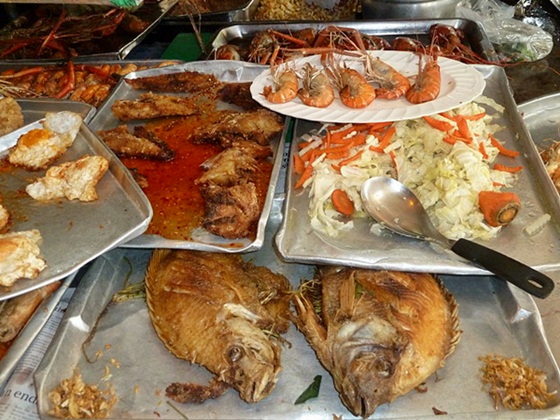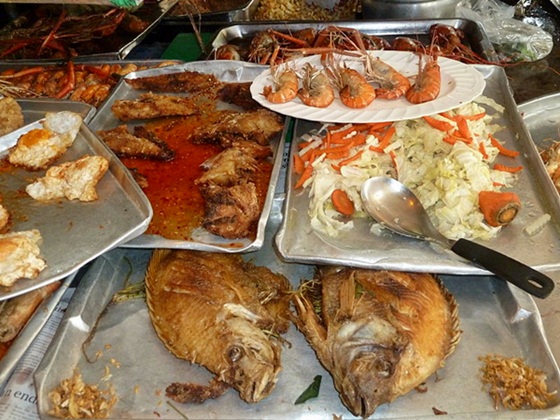 7) Food. Chatuchak is known by the Thais to have some of the best food in Bangkok. There are stalls and restaurants everywhere that sell anything from squid on a stick to green curries, traditional Thai somtam (spicy papaya salad), cut fruit, noodles, spring rolls, French fries, fried chicken, soups, desserts, doughnuts, ice cream (both regular and traditional Thai ice cream on a stick), and any number of other yummy things.
The food is safe, I don't know of anyone who has gotten sick from it, it is dirt cheap and very tasty.
8) Bars. There are several bars at the market, usually populated by mainly Westerners although some of them have a Thai flare, and are favorites of the locals. Beer is cheap, wine and mixed drinks are reasonable, and they will often have a guy walking around with a basket of 'bar snacks' (nuts, beans, spicy seeds etc.) Delicious and only e0 baht (around 95 cents).
9) Toilets. There are several around the market. They charge 3 baht entrance, and don't forget to also buy tissue paper (usually 5 baht) as there will not be any once you get in the stalls. Thai girls also take forever in the bathrooms, so be prepared for a long wait if you are female.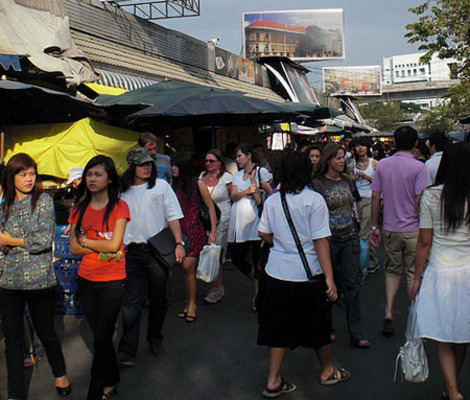 10) The market is a circular shape. So it is easy to walk the whole way around it. There is a street that runs in a circle from one side of the market all the way around and back. Stalls and alleys then run off this street in all directions. If you head into the middle bit and keep going, you'll eventually arrive straight through it and back onto the circular street on the other side.
There are also policemen everywhere who speak enough English usually that you can ask for directions if you get lost.
Those are the survival points, so what do they sell at Chatuchak?
Fruit, vegetables, plants, clothes, shoes, artwork, jewelry, watches, silks, Thai crafts, wooden furniture, household items, electronics, young fashion, candles, dogs, cats, rabbits, snakes, exotic animals, bags, purses, wood carvings, toys, fake designer wear, fake bags, fake DVDs, baskets, antiques, sheets and pillowcases, ceramics, glassware, jewelry boxes, photograph frames, fabrics, silk flowers, gifts, towels…….pretty much anything you have ever seen in your life is at Chatuchak, and certainly anything you have seen in Thailand.
Everything is also a lot cheaper here than almost anywhere else in Bangkok.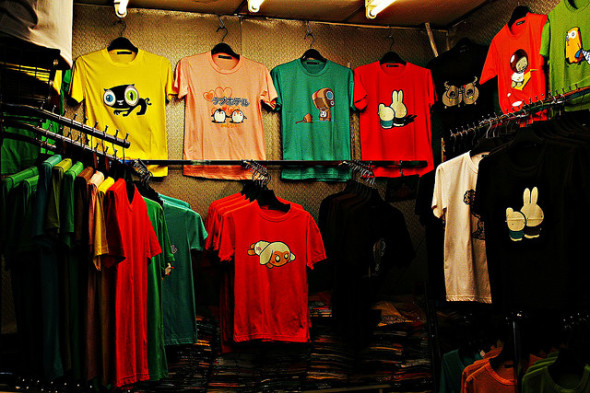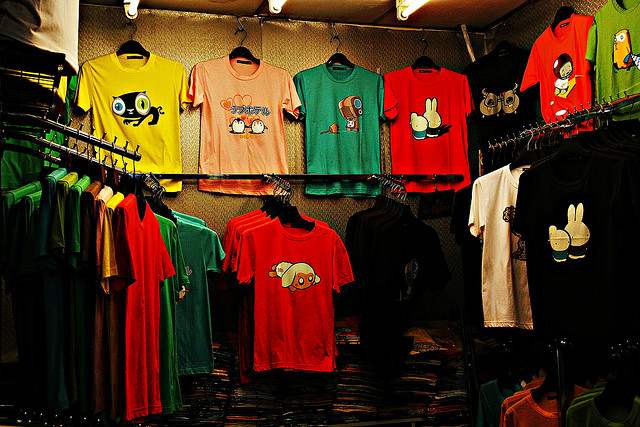 A final note – if it is raining, avoid Chatuchak completely. The narrow alleys flood, the corrugated iron roofs leak like a colander, and everybody scuttles for cover like drowning cockroaches.
Pedestrian traffic grinds to a halt and you will find yourself stuck sheltering in a little alcove crammed between 50 other people. No fun and there are many air-conditioned, indoor malls in Bangkok that are better places to spend a rainy day.
So, remember, on a normal sunny, hot Bangkok day here is how to enjoy, and survive Chatuchak – Go early, get a free map, don't bring a purse, hydrate often, bargain, get snacks, ask a policeman or stall owner to help you if you get lost, and most importantly, buy it if you like it because you'll never find it again.
At least 4 hours is required to get a good feel for the place, and to find what you are looking for.
Get breakfast first, then shop. Stop for a break and a drink after a couple of hours. Shop again. Have another snack or lunch when you're done, then head back to the skytrain or underground and go back to your hotel to drop off your hundreds of bags.
Mostly though, have fun, talk to the locals and take lots of photos!
Related: Want to see what Chatuchak has to offer? Check out this cool video