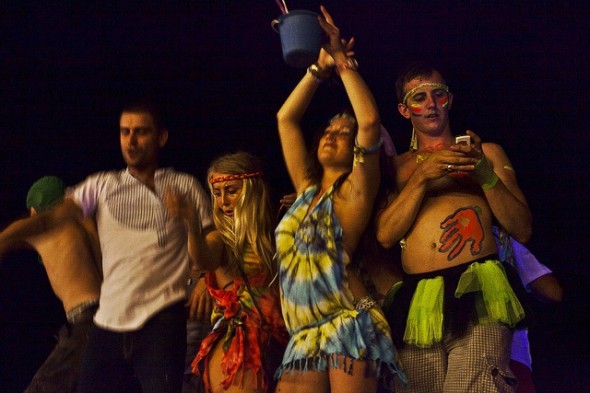 One thing naive female tourists who love to party in Thailand don't realize is rape and sexual assaults at Thailand's Full Moon parties are becoming more common than they were just a few years ago. Every year several foreign women report rape or sexual assault during or after a Full Moon Party, with Thai authorities guessing the actual number of women attacked is probably larger, as others don't don't report these incidents at all. The latest report of sexual assault at a Full Moon Party came today from an Israeli woman who said a man attacked her and tried to rape her as she walked home after the party on Koh Phangnan.
The woman is a 23-year old Israeli citizen simply named in Thai media as Ms Havory (surname withheld to maintain the woman's privacy). She told Thai police she had been walking home alone in the early hours of the morning when she was attacked by a man. As he attempted to kiss her, she bit him on the lip and punched him in the stomach before running off. (Looks like those stories we all hear about Israeli women having to spend two years in the military so they know how to protect themselves may just be true! Good for her!).
Police are now looking for a Thai man in his mid-30s who was in the vicinity of the Tommy Resort Hotel around 3:30 am on Sunday morning when the woman was attacked.
For women who go to a Full Moon Party on Koh Phangnan, there are several bits of common sense you should adhere to at all times, which will go a long way to helping ensure you are not a rape victim while on your holidays in Thailand. (And no, we're not 'blaming the victim', simply saying don't put yourself in dangerous situations intentionally).
1. Don't walk off alone, especially in the early morning hours when less people are around.
2. Don't walk in deserted areas, even if there are two or three of you.
3. Don't go off with people you don't know, particularly alone.
4. Don't drink too much alcohol, as it not only impairs your judgement but also makes you less able to defend yourself.
5. Don't do drugs (not only are drugs illegal in Thailand and you could end up in a Thai jail for years if caught, like alcohol, they also impair your judgement and your ability to protect yourself.
6. Don't accept drinks from strangers, buy them yourself at the bars. There have been incidences of women being drugged and then raped by men who buy them drinks.
The Full Moon parties go on for hours, most people get ridiculously drunk and, as western women are sometimes seen as 'an easy lay' by some unscrupulous men (both Thai and foreign), you don't want to put yourself in a situation where someone will use that stereotype in an attempt to rape you.
Thailand is an incredibly safe country, especially for women. But, just like anywhere, if you use some common sense when you're here, your chances of being injured, sexually assaulted or raped will likely be less.
And, of course, if you are unlucky and are attacked, report the incident to Thai police immediately. They do follow up on these reports very quickly, especially when it happens to a foreign tourist or visitor to Thailand.