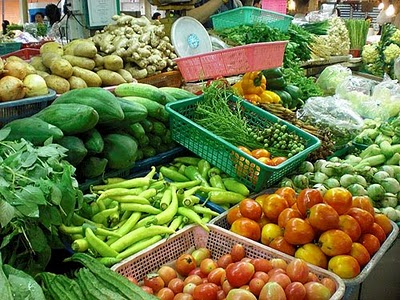 A couple of years ago, a Thai friend introduced me to Aw Taw Kaw market. Known by the Thais as Talad Aw Taw Kaw ('talad' is the Thai word for market) or Or Tor Kor, it's also known as the most exclusive produce market in Bangkok.
Top chefs from many of Bangkok's hotels and restaurants shop for fruit and vegetables at Aw Taw Kaw, as well as high-society types, Thai movie stars and fashion models, who obviously don't care about the market's high prices.
For an average person like me, though, is shopping at Aw Taw Kaw market worth it, or are you just throwing money away?
What Is Aw Taw Kaw? – It's a high-end farmers' market, specializing in organic fruit and vegetables and also selling fish and meat, nuts, dried fruit and Thai snacks and even has a small outdoor food court serving typical Thai meals. It's a massive market, with more than 200 stalls. What makes it special though, particularly to foreigners, are the incredibly wide aisles and the extreme cleanliness of the market. Most other Thai markets are dirty places. Aw Taw Kaw is so clean you could eat off the floor, which is probably why so many hi-so (high-society) types shop there.
Where Is Aw Taw Kaw? – It's in northern Bangkok on Pahonyothin Road, but easy to get to. If you drive, the market has a big parking lot, so you'll always find parking space. If you don't drive, which most people won't, take the MRT underground to Kamphaengphet station and take Exit 3. You'll see a sign saying Marketing Organization for Farmers, so it's easy to find. Make sure you don't go to the Aw Taw Kaw market on Sukhumvit – it's much smaller and doesn't sell anywhere near the same quality things.
What Can You Buy? – Famous for its extremely fresh fruit and vegetables, you'll also find stalls selling dried fruit and nuts, and Thai snacks. Towards the back of the market, there's cooked and uncooked food like shrimp cakes, fried fish, sausages of all types, enormous prawns (grilled and still uncooked), Thai desserts, sliced and peeled fruit, sticky rice in banana leaves, fresh seafood (the crab is amazing) and on and on.
Right at the back, there's a large food court where you can get a quick lunch prepared for just 35 baht (around $1.25). I highly recommend the Pad Thai as well as several of the duck dishes. Last time I was there, I ate a spicy seafood salad that was second to none.
Prices at Aw Taw Kaw – As I've already said, prices are high. Expect to pay three to four times what you would pay at a normal Thai market but, even with that, prices are still low compared to a western fresh market. Yesterday, I bought about a kilo of kale, half a kilo of Chinese celery, two big bunches of cilantro and two very large bunches of fresh basil. The whole lot was only 120 baht ($4). If that is three times the cost of a regular Thai market, you can only imagine how cheap they are.
As far as doing weekly shopping at Aw Taw Kaw, with the prices being high, it's entirely up to you. I like high-quality fruit and vegetables that are flavorful and fresh. Compared to vegetables at many street markets and western-style supermarkets in Bangkok, Aw Taw Kaw's quality and taste is simply better.
Having said that, I don't buy all my fruit and veg needs there. I pick and choose what makes sense for the prices involved.
If however you love garden-fresh fruit and vegetables, or are looking for already prepared chicken, duck, fish and seafood, or just some of the freshest fish and seafood in Thailand, shopping at Aw Taw Kaw is a good choice for you. Besides, unless you're poor, getting a huge bag of fresh produce and seafood for only $5-7 is hardly going to break the bank now, is it?