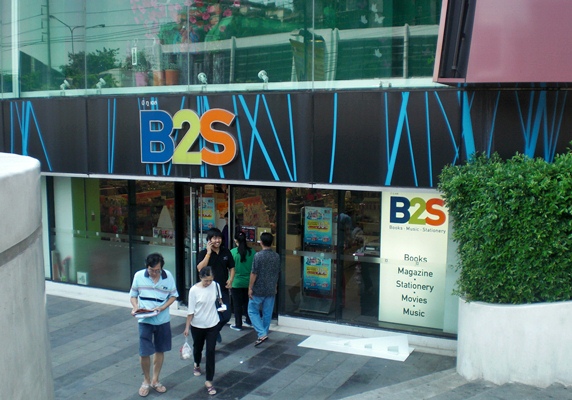 What is B2S in Bangkok?
B2S in Bangkok, Thailand is one of my favorite places to shop. It's a Thailand bookstore chain that sells not only books in both Thai and English but also office supplies, back to school supplies, stationery, gifts, CDs, DVDs, magazines, newspaper and more.
B2S is owned by the same Thai company that owns the Central Department Store chain and Central shopping malls. That means, if you're at any of the Central malls in Bangkok, there will be a large B2S store somewhere around
The best B2S branches in Bangkok?
My favorite B2S, and I believe the largest one in the city, is at Central World Plaza in downtown Bangkok as they have a huge selection of CDs and DVDs, books, magazines and stationary.
The B2S near my house at Central Ladprao is also excellent as, since the mall was renovated a couple of years ago, it was moved to the basement area (see photo above) and has an even bigger selection of things to buy than before. They even sell a good selection of Kindles.
What to buy at B2S
For the best shop in Bangkok for back to school supplies, office supplies, magazines, newspapers and entertainment media, you really can't beat B2S.
It's also wonderful if you suddenly find yourself needing to buy a gift, as they have a plethora of small gifts like blank books, cute stationery sets, pen and pencil sets, iPhone covers, both international and Thai CDs, t-shirts, soft toys, Japanese candy and cookies, decorative items for children's and teenagers bedrooms, and a slew of other things.
Price-wise too you'll find gifts for as low as 100 baht ($3.25) or as high as a couple of thousand baht ($67) and thousands of other things in between. In fact, if I suddenly need to grab a quick gift, B2S is usually the first place I head.
Finally, if you're stocking up on back to school supplies and are still looking for school uniforms as well, don't miss our article on buying school uniforms in Thailand.