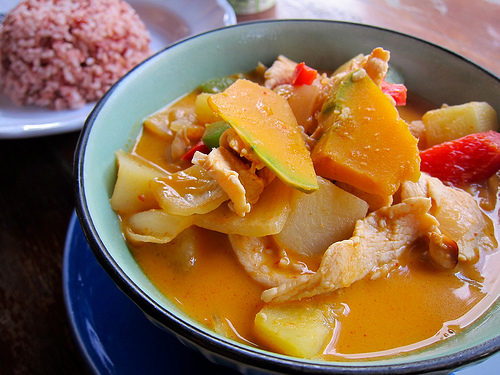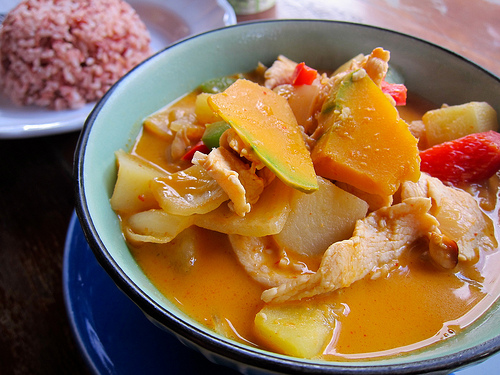 My favorite Thai cuisine restaurant in all of Thailand is Baan Ice on Prachaniwet 1 in northern Bangkok. Owned by my best friend's husband's grandmother (got that?), Baan Ice serves authentic southern Thai food in a casual and friendly environment. I've eaten at well over 1,000 Thai restaurants all over Thailand, yet Baan Ice still remains my favorite.
Location of Baan Ice – Baan Ice is situated on Prachaniwet 1, which is in an upscale yet laidback area of northern Bangkok. Just across the street and up aways from the famous Bon Marche market, it's wonderful to eat lunch or dinner at Baan Ice then be able to shop at all the cool stores and markets nearby. With Bangkok traffic being so horrendous, it's also easy to get to as it's less than ten minutes from the sky train in a taxi and about the same time from Major Ratchayothin and Central Ladprao.
Atmosphere at Baan Ice – I love Baan Ice because the atmosphere is casual and relaxed. With tables inside on three floors, plus a small patio area, there are plenty of places to sit.
Add to that the bookshelves on half the walls of the restaurant crammed with magazines and books, and you can even relax reading or flick through a magazine while you're waiting for your food to arrive.
The Staff at Baan Ice – As the restaurant is located out of the main tourist area, most of the staff doesn't speak English. The manager does, but she's not always there so, if you don't speak any Thai you'll have to point to the pictures on the menu to order what you want. However, the staff is helpful, friendly and funny and will likely enjoy trying to help you pick the best food on the menu.
Plus, once you've ordered, the food arrives quickly and they never forget what you've ordered or bring you the wrong thing. Unusual for many Thai restaurants.
The Food at Baan Ice – Of course, the main reason we all enjoy restaurants is for the food and at Baan Ice you will not be disappointed. The menu is enormous, with a concentration on southern Thai food. What that means for the uninitiated is most food will be much spicier than the typical Thai food you might be used to. However, as everything is cooked fresh, just mention "pet nit noy" (a little spicy) when you order, and they'll make it to your specifications.
My favorite food at Baan Ice is the fried chicken served with sweet and sour sauce, the southern-style Muslim spicy rice with shrimp, the cold noodles with a peanut sauce served with a side dish of fried veggies and green beans, and massaman curry. But, honestly, everything at Baan Ice is wonderful. Over the last five years, I've eaten at least 40 different dishes and, other than one spicy fish soup dish that just isn't to my taste (Thais love it), everything has been excellent.
The food is cooked fresh, it arrives quickly, it's perfectly spiced and everything is served in an attractive fashion. Also, don't miss ordering one of the restaurant's smoothies (in Thai, Tangmo Pan – watermelon smoothie is my favorite), they're just about the best in Bangkok.
If you're looking for an authentic southern Thai food restaurant, it's well worth the drive to Baan Ice.
Located on Prachaniwet 1, in northern Bangkok, you can get there two ways. Either drive north on Prachaniwet 1 (with Wat Sam-ee-en-ari (the big temple) on your right hand side, and you'll see Baan Ice just passed the first large intersection on your right hand side. If you're coming south on Prachaniwet 1 from the Mall Ngam Wong Waan, Baan Ice will be on your left hand side, just a few doors from the first large intersection.
Photo copyright – Masssaman curry by Andrew-Hyde, Creative Commons License