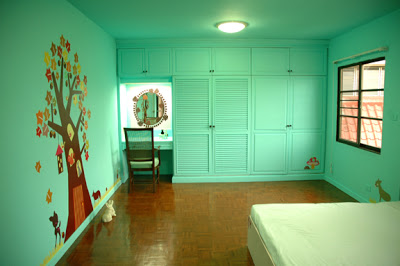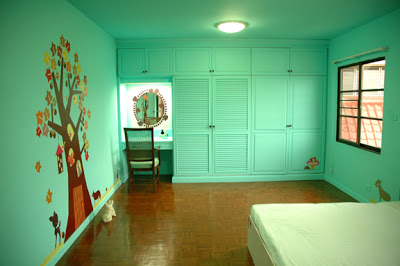 A couple of months ago, I ate lunch with a Thai friend at Baan Waree in Bangkok, Thailand. Always on the lookout for a new budget hotel for when my friends come to town, I was thrilled to learn, not only is Baan Waree the cutest restaurant I've ever seen, it's also the most fabulous boutique budget hotel.
If you love unique in style, fashionable, cute, bright, cheerful, clean and with the funkiest rooms ever – you, like me, will not only want to stay at Baan Waree budget hotel, you'll want to live there.
The Location of Baan Waree – Located in northern Bangkok, just ten minutes away from the city center by sky train, Baan Waree is in an excellent location. Just up the street and down a quiet soi from La Villa shopping center and the main road, Pahonyothin, Baan Waree is far enough away from the main street that you'll feel like you're in the countryside, but less than a fifteen minute walk to one of the busiest shopping and restaurant areas of Bangkok.
But, even better, Baan Waree has a free tuk-tuk, so they'll take you to and from the hotel without even having to walk. Just let them know you're coming and they'll pick you up outside the Starbucks at the bottom of the sky train steps. Easy.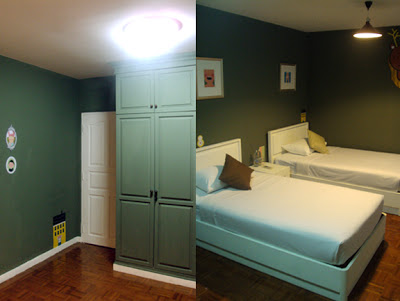 The Rooms at Baan Waree – The building Baan Waree is situated in used to be an apartment building, so the rooms are larger than your average hotel room. Each room though is completely unique as every one is designed and decorated by a different Thai artist – and all are funky, cute, bizarre or just plain cool.
One room is decorated in lime green with colorful little creatures painted all over the walls and balloon bubbles with "Good night" and "Good morning" written in several languages coming from their mouths. Another room is light turquoise with a huge tree painted on the wall and animals, squirrels, birds and bird houses dotted around. Every room is incredibly clean and well taken care of and comes with an ensuite bath. Some rooms also have balconies.
What's even more fun though is, on each floor, there's also a lovely sitting room that can be used by everyone staying in the rooms on that floor and, again, each sitting room is unique. They're a wonderful place to relax in as well as a fun way of meeting new people and making friends.
There's also Wi-Fi internet throughout the hotel, and washing machines if you've been traveling a bit and need to do some laundry.
The Food at Baan Waree – Baan Waree's restaurant was featured in a local Bangkok magazine, which was why my friend and I visited it in the first place. The restaurant, and the food (a good variety of tasty Thai dishes) lived up to the magazine's review (which was excellent), plus the staff made our visit even more memorable. They're friendly, smiling, talkative and so helpful, they really make the hotel.
You can eat inside the restaurant, or outside in their pretty garden. Either way, the food is great and the service delightful.
Baan Waree is currently running a promotion with their smallest rooms, for one person, starting at only 599 baht ($20) a night and larger rooms from between 999-1,099 baht ($33-$36). But, even at normal price, they start at still only 899 baht ($30), which for the quality of accommodation and friendly owners is a steal.
Baan Waree boutique budget hotel is at 24 Paholyothin 8 Rd (Soi Sailom 1), (Near Ari BTS station) Bangkok, 10400
Baan Waree – Don't miss checking out their website for photos – their rooms really are amazing