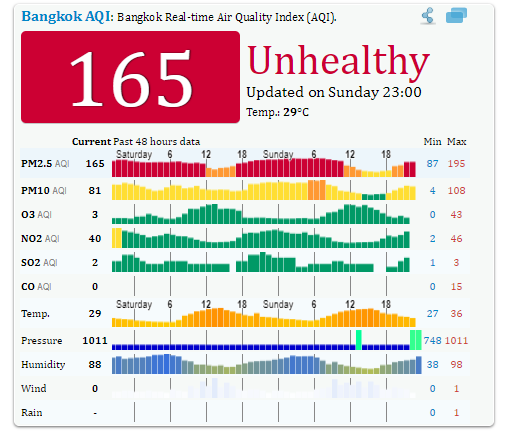 Bangkok air pollution currently at dangerous levels
As Tasty Thailand reported a couple of weeks ago, Bangkok, Thailand has been struggling with air pollution at record levels for the last few weeks.
This week, Bangkok is back to having potentially dangerous air pollution, with airborne dust particles having currently risen back up to levels seen just over a week ago.
Today's levels — PM2.5 – airborne dust particles 2.5 microns in diameter or less – exceeded the standard level of 50 micrograms per cubic metre of air in almost 20 places around Bangkok.
Bangkok was deemed to be so bad, in fact, the Royal Rain-making and Agricultural Aviation Department is being asked to begin cloud seeding in various areas. This with the hope that it would cause rain and, as a result, reduce the fine dust particles in the air.
Of course, Bangkok air pollution has been extremely bad for many years, with little being done by subsequent governments to change that fact.
As recently as February last year, Greenpeace Thailand asked Thai Prime Minister Prayuth Chan-ocha to deal with the air pollution as particles were at dangerous levels again.
Of course, little has been done by the Thai government since then to deal with the problem. Hence, the dangerous levels of air pollution seen in Bangkok again this month.
Bangkok air pollution is caused by too many vehicles, the lack of enforcement of emissions standards, too few green spaces and poor urban planning.
You can keep track of current Bangkok air pollution on the Air Quality Index Widget's website, along with information about the city you may live in as a comparison.
Meanwhile, if you are in Bangkok, the best way to deal with the current high level of air pollution is to stay indoors as much as possible with windows closed.
If you must go outside, wear an air pollution mask until dust particle levels fall.