Since the beginning of 2019, Bangkok air pollution has been so bad the Thai Pollution Control Department is now asking motorists to use public transportation instead of driving to work, to shop or for any of the hundred other reasons they use a car.
The appeal from the Thai Pollution Control Department was released yesterday, January 7th, 2019, after levels of dust and other pollutants in the air hit record levels.
At current levels, the department says they 'pose significant health hazards' that could be largely avoided if more people in Bangkok used public transportation.
With smog in many areas of the city so bad, Bangkokians are also being asked to refrain from any outdoor burning. The pollution department has also recommended those driving cars with exhaust pipes that are not up to legal standards to not drive until pollution levels improve.
The worst areas affected by the current high level of Bangkok air pollution are Kanchanapisek Road in Bang Khun Thian, Bang Na, Klong Chan, Bang Kapi, Din Daeng, Intharapitak Road, Lat Phrao Road, Din Daeng Road, Phya Thai, Plaplachai and Wang Thong Lang district.
Read: Easy ways to avoid traffic jams in Bangkok, Thailand
Other measures are also being taken as Bangkok pollution rises.
Things like spraying water into the air in an attempt to lessen the dust particles, and having the Bangkok Metropolitan Administration (BMA) institute increased road cleaning in some of the worst affected areas.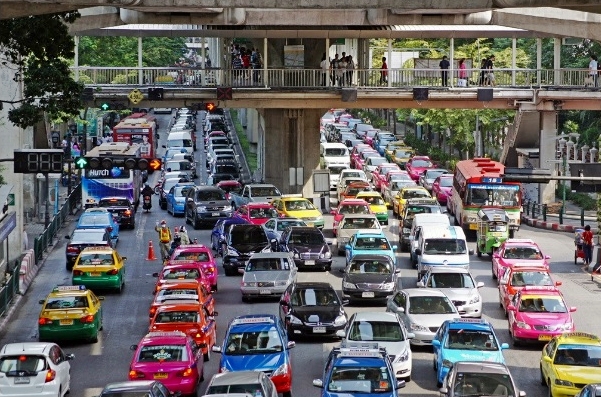 The problem with Bangkok pollution, however, is that it has been an enormous ongoing problem for decades. And one that very little has been done by successive governments to address it.
Much of it has been caused by Thailand's rapid development, and by the increased traffic and industrial activity that development brought. The problem was often prevented from being dealt with by powerful interest groups.
Groups and individuals so powerful and so lawless, Thailand has been named as one of the most dangerous places in the world to be an environmental activist after the murder of a number of environmental and land activists in the past few years alone.
The current Thai military junta government also seems to have little concern about environmental issues.
Something you have to wonder about as Bangkok's air pollution, and other environmental issues around Thailand, negatively affect everyone in the country. Including members of the junta government, their families and their children.
Related: Why are Bangkok's traffic jams some of the world's worst?