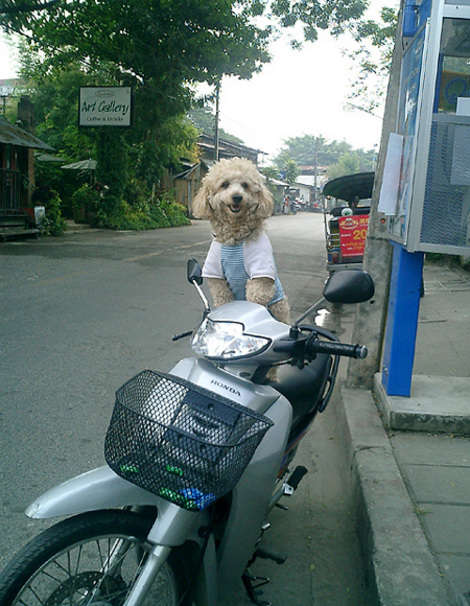 Living in Bangkok for a decade, I am used to the Thai version of western concepts not being quite like the west. In some cases it is better, in some it's worse, but in many cases it is obvious the Thais who set it up don't quite understand the concept of what they're trying to emulate.
That is what it looks like for Bangkok's new dog park.
Currently being created by the Bangkok Metropolitan Administration (BMA), the new Bangkok dog park is going to be located in the Vacharapol area of Ram Intra district. The dog park will be on 4.6 rai of land, and will include a running track, exercise areas and even a vet on duty for any problems you may be having with your dog.
While having Bangkok's first dog park is an awesome idea, as most dogs in Bangkok are stuck walking around concrete-laid city streets in all Bangkok's disgusting pollution, or walking around parking garages for exercise, it is also patently obvious the BMA and the people they have consulted with do not quite get the concept of a dog park.
Why?
Because one rule they have stated right from the beginning is, when dog's arrive at the park they must be on a leash and must remain on the leash the whole time they are there. Needless to say, that is not a dog park.
The reason why dog parks are so successful in the west is because they are a place where a dog can legally be allowed to run free. He can get some exercise, have a bit of freedom and, yes, even play with his doggie friends if he feels like it.
Restricting the poor dog to always being attached to its owner by a leash, however, defeats the object of a dog park.
Not surprising really, though, as so many Thai authorities do not seem to have the common sense of their counterparts in other countries. It is why Thailand is behind many other countries on so many issues.
Needless to say, if you do not mind dragging your dog around a dog park on a leash, the new Bangkok dog park is due to open sometime towards the end of 2013.
For those who prefer to give their dogs a modicum of freedom though, you may want to consider other alternatives.