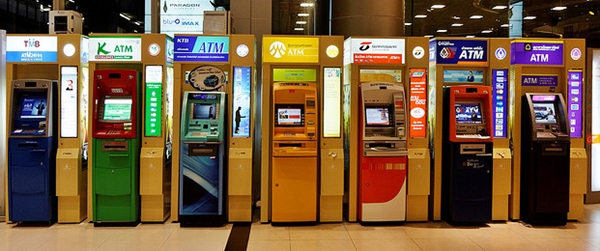 It seems if a Bangkok Bank ATM machine breaks when you are using it, you could very well be accused of breaking it yourself and have Bangkok Bank call the police and try to get you arrested.
At least, that is what happened to two women at a Bangkok Bank ATM in Chonburi today.
The Bangkok Bank ATM in question is located in Pattaya Soi 16 in the Bang Lamung district of Chon Buri.
This morning, two women went to use the ATM. After one woman put her bank card into the machine and keyed in her code, the ATM accepted the woman's card but then produced an error code and refused to return the card.
The woman pressed the 'Cancel' button a few times but said nothing happened. After a few repeat pressings, her card was eventually ejected but, as it was, the plastic ATM screen also popped off.
At this point, a Bangkok Bank clerk appeared, accused the two women of "breaking the ATM machine" and called the police.
Police officers arrived soon after, whereupon the women complained about the faulty machine and insisted they had nothing to do with it breaking.
Police quickly came to the conclusion that the evidence pointed to the women having nothing to do with the ATM machine getting broken, but that it was a faulty Bangkok Bank ATM machine instead.
The two women were then allowed to go about their day.