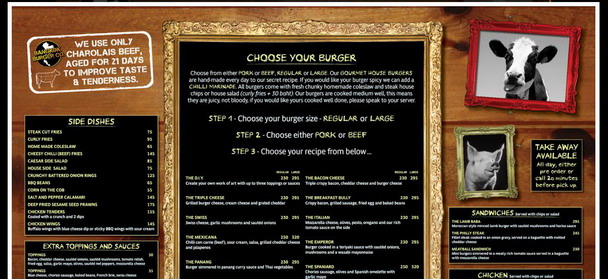 Usually, as I live in Bangkok, Thailand where, with all the delicious Thai food, burgers are the last thing I think about eating, I eat a burger maybe twice a year. This month, I've eaten at five burger joints, with my latest stop at Bangkok Burger Company.  Bangkok Burger Company is one of the first upscale gourmet burger restaurants in Bangkok that isn't targeted to expats but whose targeted customer base is predominantly Thai. Oddly though, when I was there, many of their customers were foreign expats (lots of Japanese) and, I'm not surprised, their burgers are absolutely incredible.
Location of Bangkok Burger Company – Situated in the trendy Thong Lor area of Bangkok on Sukhumvit Soi 55, the easiest way to get there is to take the sky train to Thong Lor station and then catch a motorcycle taxi to Soi 10, just a few minutes away. I actually walked, but I like the exercise. Lazier types, or those who hate to walk in hate, will do better with a motorbike taxi.
Food at Bangkok Burger Company – First of all, get ready for an absolutely massive menu as Bangkok Burger Company not only serves 15 different types of burgers, but also salads, sandwiches, chicken and fish dishes. The burgers though, are usually what everyone comes here for and, after just one, I know why. They're incredible.
One of the best things about getting a burger at Bangkok Burger Company is there are two sizes of burger to choose from. Remember, the restaurant is targeted to Thais, who usually don't eat as much as farangs (westerners) and certainly don't eat as much meat as we do.
So, the regular burger (which I had, and it was plenty big enough at 100 grams) is between 230-250 baht ($7.40-$8.00). The larger burger (170 grams and, really, you don't need it) is 295-320 baht ($9.50-$10.22).
When you order, you can choose either beef or pork for your burger (Thais tend to eat more pork than beef) and burgers come with coleslaw, burgers or a house salad. If you want curly fries, you'll have to add another 30 baht (95 cents) but, believe me, you really want to do this.
After spending what seemed like hours trying to choose a burger, I finally plumped on a regular Bacon Cheese burger, which I ordered well done (I don't enjoy bloody meat). It arrived, I wolfed it down in three minutes flat. It was superbly, superbly delicious. Perfectly crispy and very tasty bacon, a burger that's just full of flavor, and lots of melted cheddar cheese.
The curly fries I added to my order were the best I've eaten in Bangkok. Ever.
Other choices of burgers include The Panang (a burger simmered in Panang curry), The Gastro (blue cheese, onion rings and a mushroom red wine sauce) and The Italian (mozzarella cheese, olives, pesto and a side order of tomato sauce – this is going to be my next choice as my friend ordered it and didn't stop talking about it all the way home). As you can see, they definitely serve gourmet burgers.
Other menu items include philly steak sandwiches, meat ball sandwiches, parmigiana chicken, chicken caesar salads, fish fingers and chips (great for the kids) and a whole lot more. For the entire huge menu, check out their website (see link at the bottom of this article).
Drinks for the Alcohol Lover – If you like your alcohol with your meal, don't miss eating at Bangkok Burger Company. Along with the usual soft drinks and beers, you can also get what they call 'Grown Up Shakes', which are milk and ice cream shakes with Bailey's Irish Cream, butterscotch schnapps, chocolate liquors etc added to them.
They are a bit pricey at 195 baht ($6.50) but they are big and, we heard, completely worth the money if you love a good shake with a liberal application of booze. And yes, they do go great with a burger.
Takeaway – Bangkok Burger Company also offers takeaway. You can head over there and order and wait, or you can call your order in and pick it up. It will be ready in about 20 minutes. I recommend sitting down to eat though. It is a fun, trendy restaurant, there are lots of interesting customers, and the staff is lovely.
More Information:
Bangkok Burger Company – Menu and more