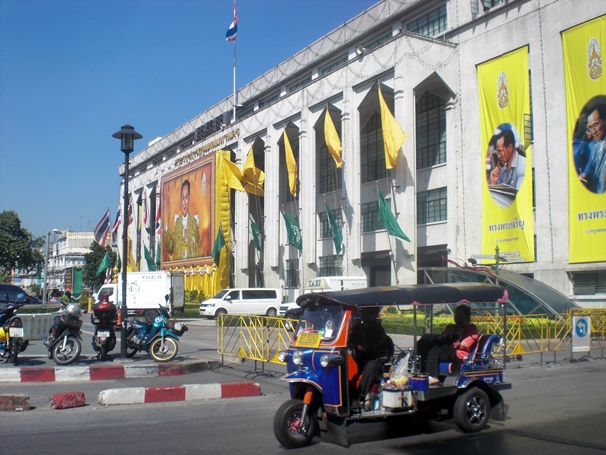 I ended up walking from Khao San Road to Chinatown (Yaowarat) in Bangkok a couple of weeks ago and eventually found myself in front of Bangkok City Hall. The center of administration for all of Bangkok as well as where the office of the Governor of Bangkok is located, Bangkok City Hall is quite an imposing looking building. It's also where the Bangkok Metropolitan Administration (BMA) operates from.
Located just in front of Wat Suthat and the famous 'Red Swing', Bangkok City Hall isn't actually one of the easiest places to find downtown, not if you're walking that is.
Then again, there really aren't that many reasons for tourists or foreign residents of Bangkok to go to Bangkok City Hall. In fact, I'd lived in the city for a decade before I needed to go, (nothing official, I was just meeting a Thai friend for lunch) but if you do need to go I recommend a taxi rather than the way I did it — a motorbike, a taxi, a boat and a tuk-tuk.
After your business at Bangkok City Hall, don't forget to check out the surrounding area as well. It's only a few minutes walk from Chinatown, Wat Suthat and the Red Swing are right across the street and are well worth seeing. There are also some quaint coffee shops and small restaurants in the street right next to City Hall, so you can even grab breakfast or lunch.
Plus, if you walk a little further down Siriphong Road, you'll even see a gorgeous park on your left hand side, Romaneenart Park, that used to be the location of Bangkok's old jail. There are still a couple of jail towers left you can see, as well as some very pretty fountains. Grab a park bench and enjoy the view.