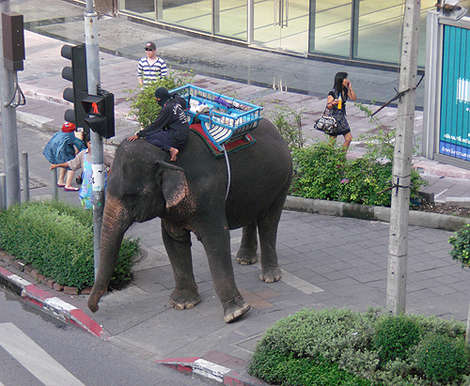 Bangkok is not dangerous. Really.
Sure, we still have ongoing political demonstrations and there has been occasional violence. But……unless you are actually involved in the political demonstrations, which are at specific spots around the city, you'll never see anything dangerous or have anything scary happen to you. In fact, Thailand is one of the world's safest countries, and one big reason why you should visit it.
I have lived in Bangkok for 8 years and my life has been absolutely no different in the last couple of years, since the anti-government demonstrations began, than before.
I have not seen any dangerous demonstrations, I have never seen any violence, in fact I have never been involved in anything scary or dangerous.
I go into downtown Bangkok every day (I work there, in the heart of it all) and the most interesting thing I have seen all week is an elephant on its way with its mahout (owner) to beg for bananas from tourists.
Even when we had a military coup five years ago, life went on as normal. The day after the coup, everyone had a holiday and was in downtown Bangkok shopping and posing for photographs with the soldiers.
As a tourist, what happens if you decide not to come to Thailand? The local economy suffers. Local Thai families suffer. Small businesses close and more people end up not being able to put food on the table for them and their kids. Many small Thai businesses operate on very small margins.
When tourists stop coming to Thailand, the trickle-down effect makes them suffer. During the last tourist meltdown in Thailand (after 9/11) many small Thai business owners lost their livelihoods.
When tourists don't come to Thailand, this also puts the elephants and their mahouts out of a job. The Thai government has spent years trying to establish eco-friendly elephant sanctuaries in northern Thailand, where tourists can go and see and ride the elephants.
When tourists don't come to Thailand, these elephant sanctuaries cannot afford to keep the elephants so the mahouts leave and bring them into Bangkok to beg for money and food. In Bangkok, the elephants get poisoned by the pollution, get skin diseases because of being in an environment they're not used to, and get hits by cars or buses – often being seriously injured or killed.
Thailand already has a rapidly shrinking elephant population (less than 4,000 elephants left from more than 100,000 only 50 years ago). If tourists don't come to Thailand, it's guaranteed to cause the elephant population to shrink again.
So, if you are a tourist thinking of coming to Thailand – come.
Bangkok is not dangerous. Bangkok is very safe. The rest of Thailand (other than the far south, which is not a tourist area anyway) is incredibly safe. Thais are the nicest, most helpful and friendliest people in the world.
They will take care of you and you will have one of the best holidays of your life. Oh, and don't forget, because the tourist industry is down in Thailand, there are some fabulous deals to be had here too.