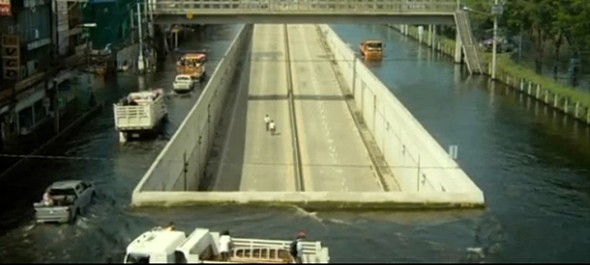 If you've been in Bangkok in the last couple of weeks, it will be no surprise to hear we've been having a lot of rain. In fact, Bangkok has received more rain in the last few weeks than is normal this time of year. So much so, just like last year, the Bangkok Metropolitan Administration (BMA) has just announced all 50 districts in Bangkok may flood in the coming few days. More heavy rain is expected between September 14th and the 18th, and although the BMA and the Pheu Thai government are doing everything they can to provent flooding, there's only so much anyone can do when faced with billions of gallons of water.
Meanwhile, Bangkok deputy governor Malinee Sukvejvorakij has told every district to start installing water pumps, so water can be drained off if it does arrive.
This news comes right after flooding of 3-4 feet in Sukhothai and Ayutthaya earlier this week, and announcements that western areas of Bangkok including Nonthaburi could flood badly again this year.  Last year, these were all areas that spent up to three months under 3-8 feet of flood water, so Thais and foreigners who were in Thailand at the time know exactly how bad it could get.
Of course, when the Pheu Thai government of Yingluck Shinawatra announces anything to do with flooding in the capital, you get the usual farang idiots crawling out of the woodwork on sites like The Bangkok Post complaining of "corruption" and "mismanagement" when it comes to flood prevention.
If they had half a brain to share between them, they would understand when a city is on a flood plain as Bangkok is it would not matter who was in power or what anti-flooding measures were taken, the city would still flood. It's man versus nature and billions upon billions of gallons of water that has nowhere else to go.
If these idiots had half a brain………..then again, if they did, they wouldn't be wasting their time on newspaper forums talking about things they know nothing about.