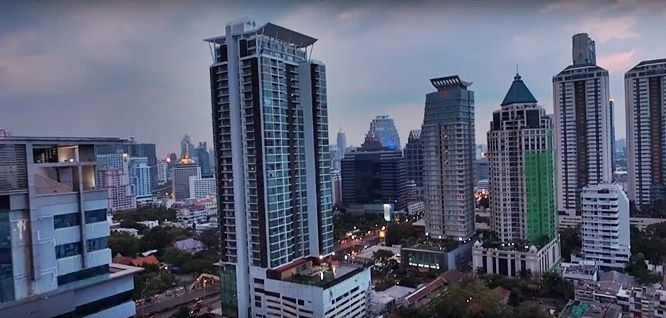 As a long-time resident of Thailand, I get emails all the time from tourists who want to know should they spend the bulk of their time in Bangkok or Chiang Mai, Thailand's two top tourist destinations. As they usually need to know before they book their trip, it's sometimes hard to give advice as deciding whether to visit Bangkok or Chiang Mai truly depends on what you like, what you hate and what you're looking for on a trip to Thailand.
Bangkok and Chiang Mai are totally different cities, with different things to offer and a different pace of life. If you're considering Bangkok instead of Chiang Mai, Chiang Mai instead of Bangkok, read on for the pros and cons of each – then you decide.
Deciding to Visit Bangkok Instead of Chiang Mai – Almost all tourists arrive in Bangkok on their first day in Thailand. Many stay, but just as many immediately head out and fly straight to Chiang Mai, where they spend the rest of their vacation. For those who are considering staying in Bangkok though, here are the pros and cons of Bangkok, to help make your decision easier.
Pros For Visiting Bangkok
1. Bangkok is enormous and, with more than 13 million people living here, there's plenty to do for everyone. If you like fast-paced, exciting cities that are cosmopolitan, you'll love Bangkok.
2. Bangkok has two of south east Asia's largest shopping malls, with several hundred shops and restaurants in each of them. There are also at least 50 other malls, most within walking distance of the sky train or underground. You may not be a huge mall fan but, don't forget, Bangkok is officially the world's hottest city so, in the heat of the day, sitting in an air conditioned mall is a god-send.
3. Bangkok has an excellent public transportation system. A sky train and underground system get you through most of the city and they're cheap at less than $1 for most trips. Boats travel the river and canals, and the Bangkok bus system is second to none. If you're looking for an easy Thai city to get around, Bangkok is it.
4. Bangkok has food from all over the world. Thai, Japanese, Chinese, French, Italian, Israeli, Indian, Ethiopian, Nepalese, American, British, Australian – you name it, Bangkok has it and at prices much cheaper than you'll pay in the US or Europe.
5. Bangkok has south east Asia's largest outdoor market. Chatuchak Weekend Market has more than 15,000 stalls, with some of the lowest prices in Thailand on anything you could want. A wonderful place for souvenirs or last minute gifts.
6. Bangkok has excellent shows that are even more extravagant than those in Las Vegas and with ticket prices only a few dollars. Siam Niramit, Joe Louis Puppet Theatre, The Red Dragon restaurant – all offer world-class shows anyone would enjoy.
7. Bangkok has Muay Thai kickboxing matches every night of the week. Unlike most Thai cities, where you can see Muay Thai a couple of nights a week, Bangkok has the country's two largest Muay Thai venues with fights every night. If you're a Muay Thai kickboxing fan, you'll love being in Bangkok.
8. World-class tourist attractions like Wat Phra Kaew, the Grand Palace, the Chao Praya River, the Floating Market, Suan Lum Night Bazaar, Chatuchak Weekend Market, Jim Thompson House, Wat Pho (Temple of the Reclining Buddha), Chinatown, and much more – there's not enough time to see all Bangkok has to offer.
9. Bangkok nightlife is the best in the world – shows, nightclubs, pubs, bars, world-famous restaurants, ladyboy shows, even the whole sex tourist areas like Patpong and Soi Cowboy – there's something for everyone's nightlife enjoyment.
10. Even though it's an enormous city, people are friendly and helpful in Bangkok. They'll welcome you and make sure you have everything you need.
Cons for Visiting Bangkok
1. If you don't like fast-paced and crowded cities, you will not like Bangkok. There are people everywhere, traffic jams, noise and congestion. Avoid Bangkok and go to Chiang Mai if you want a slower pace.
2. The pollution in Bangkok is bad, especially during the week. If you're sensitive to the air, Chiang Mai would be a better choice for you.
3. The traffic is appalling in Bangkok. If you need to get somewhere fast and cannot get there by sky train or underground, it's just about impossible at most hours of the day. If bad traffic drives you nuts, avoid Bangkok and go to Chiang Mai.
4. Bangkok is very hot and the pollution and thousands of cement buildings make it hotter. It doesn't even cool down much in the evening so, if you dislike heat, you'll likely find Chiang Mai a little cooler with more breezes to cool you off.
5. There's so much to do, you'll likely spend a lot of money. If you're not good at budgeting, you might find it difficult to not spend money in Bangkok.
Deciding to Visit Chiang Mai Instead of Bangkok – I am a huge fan of Chiang Mai as well as Bangkok. In fact, it's my second favorite place in Thailand. If you're trying to decide Bangkok versus Chiang Mai for a visit, consider the pros and cons of Chiang Mai and then decide.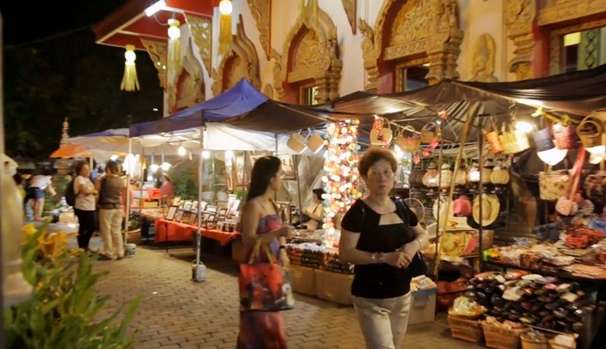 Pros for Visiting Chiang Mai
1. Chiang Mia has a definite slower pace than Bangkok. People are more relaxed so it's a great place for a laidback vacation.
2. Chiang Mai is a beautiful city with many temples, greenery, rice fields, mountains and historical buildings.
3. Chiang Mai people are incredibly friendly. You'll feel welcome in Chiang Mai.
4. Chaing Mai has many things to see. An ancient part of the city, Doi Suthep Temple, an enormous night market, art galleries, museums, an excellent zoo (they even have a baby panda), a night safari, orchid farm, butterfly farm and more.
5. Chiang Mai is famous for its cool, eclectic restaurants and cafes. You'll find fun bars, awesome cafes to relax and watch life go by, and some of the best food in Thailand.
6. The air is much cleaner in Chiang Mai than in Bangkok (most of the time, but not when they're burning the rice fields). It's a more comfortable environment for people who have breathing sensitivities.
7. Chiang Mai's Sunday Walking Street Market in the evening is just about the best market I've ever been to. Enormous, and cheap, it sells unique items you'll find nowhere else in Thailand.
8. From Chiang Mai you can go elephant trekking, feed elephants, wash elephants, watch elephant shows and more. If you love elephants, you'll love visiting Chiang Mai.
9. Traffic is far less in Chiang Mai, so you won't sit in huge traffic jams or waste time getting to your destination.
Cons for Visiting Chiang Mai
1. Chiang Mai can be hot during the day and, unlike Bangkok where there are thousands of air-conditioned venues, there are far less in Chiang Mai. You may find the heat of the day oppressive if you're not sitting in
a cafe or bar.
2. There are only a couple of shopping malls in Chiang Mai and they're tiny and old-fashioned compared to Bangkok. If you like malls, you'll be disappointed with these.
3. Public transportation isn't good in Chiang Mai. You'll spend most of your time in tuk-tuks or songtaews (small vans that drive people around Chiang Mai), as there is no sky train, underground and barely any buses. This can get expensive.
4. Because it's a fraction of the size of Bangkok, there's less to do in Chiang Mai. I find Chiang Mai to be sleepy and slow during the day (it livens up at night, when it cools down), so if you want a busy, fast-paced experience, Chiang Mai is not for you.
If you're still trying to decide on visiting Bangkok or Chiang Mai, take my advice – see both of them! Both Thai cities are incredible, with something for everyone. Sure, they both have their pros and cons, just like anywhere, but each city is unique. It would be a shame, in my opinion, to come all this way and not experience both.