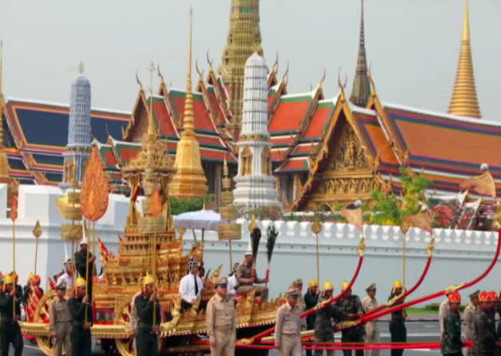 Her Royal Highness Princess Bejraratana Rajasuda will be cremated this month, with her funeral ceremony being held in Bangkok on April 9th. As is normally the case with a royal funeral in Thailand, full rehearsals occur two or three times before the actual funeral itself takes place.
This video shows photographs of one of the rehearsals outside the Grand Palace in Bangkok this week. As you'll see from the photographs, among those taking part in the funeral rehearsal this week was Princess Sirindhorn, daughter of the current Thai king, King Bhumipol Adulyadej.
HRH Princess Bejraratana Rajasuda was the only child of King Rama VI. She died on July 27th last year at the age of 85, after suffering from a blood infection.
We won't be in Thailand during the funeral for the princess, a fact I'm quite sad about. Royal funerals in Thailand are truly spectacular as hundreds of thousands of people come from all over Thailand to pay their respects.
If you are in Bangkok on April 9th, however, we'd suggest you don't miss going to Sanam Luang, near the Grand Palace, to watch the funeral procession. It will be a once-in-a-lifetime experience very few foreigners will ever see.