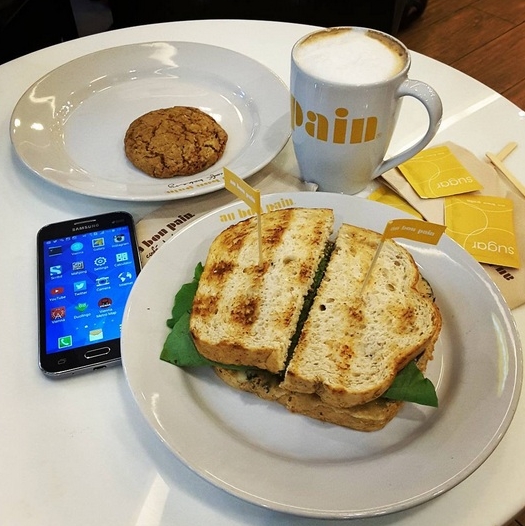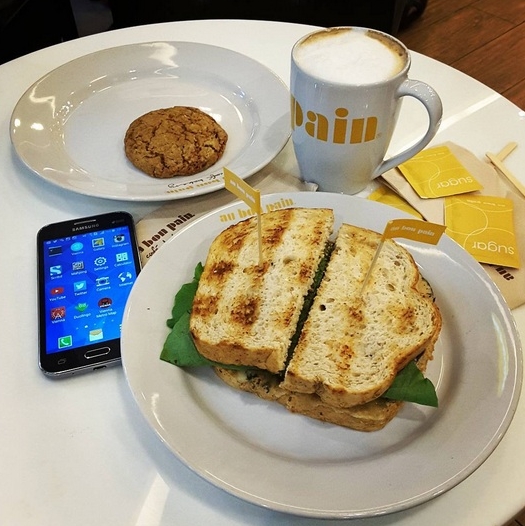 Many Thais and westerners living in Thailand eat mostly at restaurants near one of Bangkok's sky train stations. Bangkok has some of the world's worst traffic jams, so sitting in a car or taxi on your way to a restaurant, sometimes for hours, is no fun. Eating at restaurants close to Bangkok's sky train stations is fast, convenient and, as many are some of the best restaurants in Bangkok, delicious too.
Au Bon Pain (Siam sky train station) – This American chain restaurant serves incredible sandwiches and salads, delicious cookies, cakes and muffins, and some of the best coffee in Bangkok. There are two locations right next to Siam sky train station, but I prefer the branch inside Siam Discovery Center mall. It's quieter, the staff is lovely and it's not crowded with Thai university students like the branch across the street.
Pad Thai Ari (Ari sky train station) – Heading up to northern Bangkok, get off at the Ari (also spelled Aree) sky train station and take a short walk up Pahonyothin Road to Pad Thai Ari. Famous for their many varieties of pad thai (try the one with shrimp – delicious), they also have a wonderful som tam (spicy papaya salad) and excellent curry puffs (a big favorite with Thais). Pad Thai Ari is located on Pahonyothin, in between sois 6 and 8.
Greyhound Cafe (Phrom Phong sky train station) – I am not a huge fan of the Greyhound Cafe restaurants usually,as I think there is better food in Bangkok for what they charge. Having said that, though, I do love the one in the Emporium mall right next to Phrom Phong sky train station, as their food always seems to be extra delicious.
Here you will get a delightful mix of Thai-fusion and western cuisine. Try their spaghetti pesto, bruschetta, soft shell crab salad or the pan fried bass. Don't miss their sticky rice and mango, too.
Chokchai Steak House (Asok sky train station) – Just about the best steaks in Bangkok are served at Chockchai Steak House. They also make perfect burgers, salads, Thai dishes and noodles. Chockchai's meat comes from their own enormous farm near Khao Yai national park, so you can guarantee it's lovely and fresh. The restaurant's western theme is fun too. Just a short walk up Sukhumvit Road from Asok sky train station, on soi 23.
Bug and Bee (Sala Daeng sky train station) – Just about my favorite 24 hour restaurant in Bangkok, Bug andBee has four floors and serves typical coffee shop dishes as well as a full Thai menu.Try the massaman curry, one of their kebab dishes or pancakes (superb).
Bug and Bee also has a second branch in Mahboonkrong (MBK) shopping mall, next to National Stadium sky train station, but it's a teeny tiny place compared to the enormous Sala Daeng location.
There are literally tens of thousands of restaurants close to the sky train in Bangkok, any of which will save you hours of time not sitting in a Bangkok traffic jam.