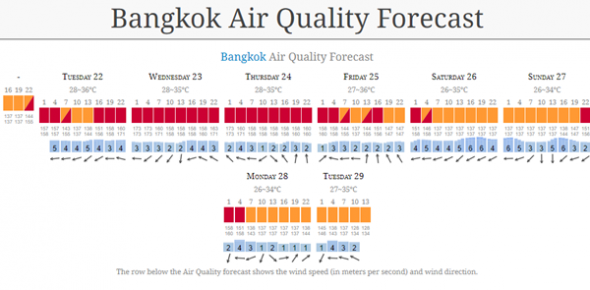 Bangkok schools cancel classes as little improvement in air pollution
After many weeks of Bangkok air pollution, it certainly cannot be said things are improving overly much.
So much so, several Bangkok schools cancelled classes today amid worries students are getting sick due to the city's ever present air pollution.
The schools that have closed are likely to remain so through the end of the school week, as forecasts for Bangkok air pollution levels over the next three days do not show any improvement.
The Thai Ministry of Education has not yet mandated Bangkok schools cancel classes, but several schools in the city have cancelled classes anyway.
The schools that have cite noticing an increase in student illness, and say discussions with Bangkok health officials persuaded them to close the school.
Other schools around the Bangkok area are cancelling sports classes, and any other classes requiring students to be outside.
Last Friday, the Education Commission Office announced they were allowing school administrators to decide if their school should temporarily close, or if just outdoor classes should be cancelled.
An improvement in Bangkok air quality?
After the weekend, however, Bangkok may see a slight improvement in air quality. At least according to the Real Time Quality Air Index.
They are currently forecasting a drop in pollution on Monday and Tuesday. Down from a high of between 158-173 air pollution levels in Bangkok today, to between 128-160 levels on Monday and Tuesday.
While the forecasted lower levels are still unhealthy for sensitive groups, they are healthier for the general public who is not likely to be affected.
Whether your kids' classes have been cancelled or not, keep track of Bangkok's air quality over the next few days on the Real Time Quality Air Index's website.  That way you know when its safer to go outside for both you and your children.
Related: Bangkok air pollution at dangerous levels again in January, 2019