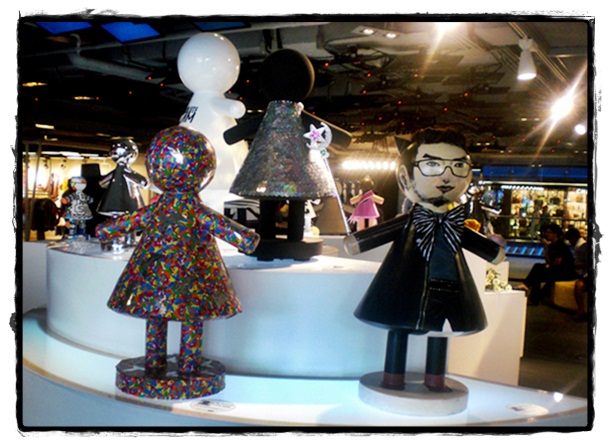 One thing I've always loved about Bangkok shopping malls is they're not just places to shop. They're also amazing places to eat as well as some of the best places to find Bangkok art exhibits. In fact, no matter which of the more than 120 Bangkok shopping malls you're visiting on a particular day, it's highly likely you'll find art exhibits somewhere in it.
Some of the best Bangkok shopping malls for Thai art exhibits currently are places like Siam Discovery, Siam Paragon, Siam Center, The Emporium and Central World Plaza. While other malls might have sales going on in their corridors and atriums, these malls often have art exhibits by local Thai artists,showcase traditional Thai handicrafts or paintings from school children around the city.
I took the photograph for today's Daily Photo at a temporary art exhibit of hand-painted statues at Siam Center in downtown Bangkok a few weeks ago, during the first week the mall reopened after a major renovation.
The architect and the owners of Siam Center obviously understand how important having an aesthetically beautiful as well as functional mall can be, as the whole mall redesign seems to be based around art and beauty. Check it out sometime (it's next to Siam BTS sky train station and the Siam Discovery Center) as the whole mall really is gorgeous.