I'm a sucker for Thai romantic comedies. Cuter than their Western versions, Thai romantic comedies often have less-than-beautiful-but-so-cute heroines, handsome Thai guys and the quirkiest, funniest storylines ever. Pair that with cool cinematography and often an interesting glimpse into Thai culture, and I see just about every Thai romantic comedy released.
But, the absolute best of Thai romantic comedies is a movie called "Bangkok Traffic Love Story" (known in Thai as Lot Fai Fah Ma Haa Na Ter – or รถไฟฟ้า..มาหานะเธอ), and it's the funniest thing you'll ever see.
Directed stylishly by Adisorn Tresirikasem and hilariously written by Navapol Thamrongruttanarit, Bangkok Traffic Love Story tells the tale of Li (Sirin Horwang) and her love for a man, Loong (Theeradej Wongpuapan) ,  she meets after she crashes her car while driving drunk.
Mei is odd, weird, hyper and very modern Thai and Loong is more traditional, calmer and sweet. A more unlikely match you couldn't expect but 30-year-old Li, desperate to find a boyfriend as, in Thai culture she's very old to still be single, is determined to make him fall in love with her.
Add into the mix Li's crazy family (her mother is laugh out loud funny) and her cool friends, and Bangkok Traffic Love Story is the best movie to come out of Thailand in 2009.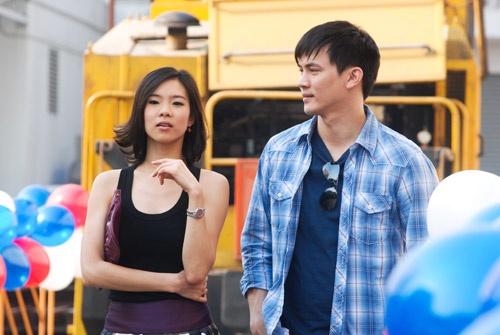 The stars of the movie, Sirin Horwang and Theeradej Wongpuapan are wonderful. Sirin, known as 'Cris' in Thailand, is a relatively new actress but destined to be one of Thailand's best. Theeradej, known as 'Ken', is one of Thailand's biggest 'pretty boys' but actually a darn good actor too. He's also cool as he's married to a woman a fair bit older than him.
I recommend anyone who loves a good comedy to see " Bangkok Traffic Love Story". In fact, I love it  so much, I've seen it 11 times. My Thai friends think I'm crazy.