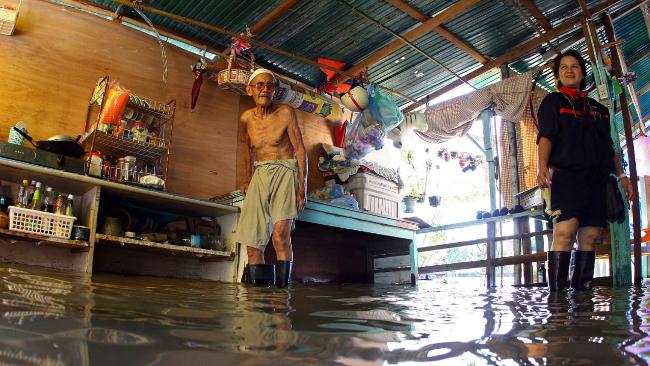 In some of the first good news Thailand has had in a couple of weeks, it was announced last night Bangkok will not flood — the city is safe.
The capital was expected to flood over the weekend, or on Monday or Tuesday, as run-off water from the massive floods in the north of the country hit Bangkok. But, flood waters were slightly lower than expected, and most of the water flowed right past Bangkok and out into the ocean, report Thai flood prevention agencies.
It now seems certain most areas of Bangkok will not flood after all, and that is a huge relief to the more than 10 million Bangkok residents and hundreds of thousands of city businesses.
Some eastern areas of Bangkok however are already underwatered, simply because they are outside the flood barriers. But these areas should stabilize over the next few days and then the flood water will begin to recede.
Once the rainy season in Thailand is over in about two weeks, flood water all over the country will begin to recede and, with that, the massive clean-up can begin.
As up to 35% of Thailand is currently, or was recently, under water the clean-up will be massive. Floods are already said to have caused at least $2 billion in damage, and that doesn't take into account the enormous loss of businesses and jobs due to this being Thailand's worst flood season in more than 60 years.
Questions will also be raised about the preparedness of the Thai government for flooding on such an enormous scale, and calls will be heard to prepare better for the long-term.