Bangkok's BakeSmith Pastries choux pastries are delicious and so is their ice cream and frozen yogurt
I was at Siam Square a few weeks ago and saw a pop-up shop for a dessert restaurant called BakeSmith Pastries, a company I had never heard of. I remembered it as the Thai women who were standing in line were walking away with some of the most delicious looking sticks of choux pastry I had ever seen.
So, I made a mental note, if I saw one again and had more time, I would join the line.
Related: If you like dessert, you will love Bangkok's Coffee Beans by Dao
Fast forward a few weeks, and there is no need to look for a pop-up shop as BakeSmith Pastries has opened a permanent shop on the ground floor of Siam Paragon. I arrived at the shopping mall early, there wasn't a line, so I grabbed my first BakeSmith Pastries pastry to enjoy as I walked around the mall.
Needless to say, it may have been my first BakeSmith Pastries pastry, but it won't be my last. Because that Madagascar vanilla bean BakeSmith Pastries stuffed-choux pastry stick (75 baht) was sweet and crispy on the outside, and squishy melty vanilla goodness on the inside.
So much so, if I had not been going to meet someone for lunch, I would have gone back to get another one. Immediately.
Since then, I have been back to BakeSmith Pastries to try their frozen yogurt (Strawberry Cheese Froyo — yum, freaking yum!), and have also sampled a friend's Caramel Cookie soft-serve ice cream, which comes with an actual cookie, and is just as good.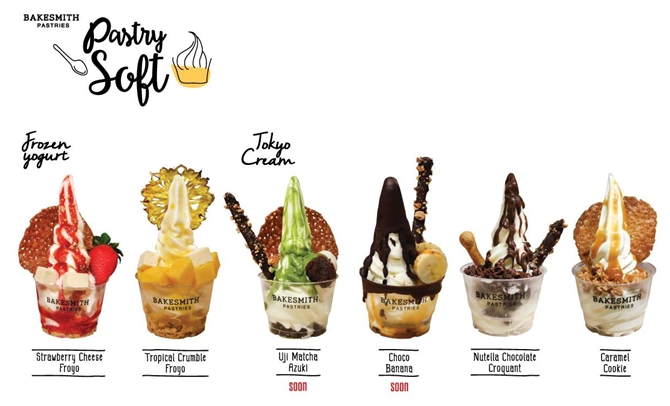 In fact, it's looking like BakeSmith Pastries is going to be the first place I go every time I arrive at Siam Paragon, as their desserts really are that good.
As for their choux pastry sticks, for 75-79 baht, they are a great deal as they are quite big (8 inches I was told). Eat one of those with a glass of their Yuzu Iced Tea, and you're set for a few hours of hard shopping.
You will find BakeSmith Pastries on the ground floor of Siam Paragon near the escalators. You can find out more about them, including some very delicious looking photos, on their Facebook page.