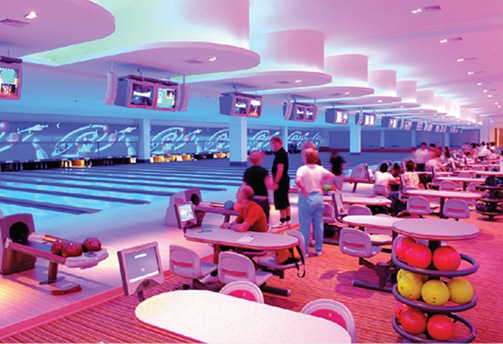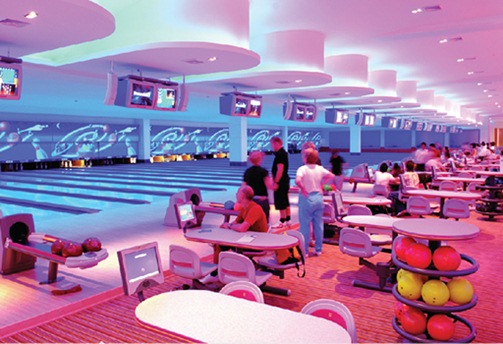 A popular form of entertainment in Bangkok is bowling. Thai bowling alleys are world-class. Loaded with all the mod-cons, beautiful bowling lanes, surround sound music, full rental facilities, great food and even beer, you can't go wrong with a night out at a bowling alley in Bangkok. They are also cheap.
If you are looking for one of the best places to go bowling in Bangkok though, don't miss these best bowling alleys.
Major Ratchayothin – Although one of the older bowling alleys in Bangkok, the alley on the top floor of Major Ratchayothin mall is a fun place to go bowling. You can rent shoes, buy socks, have several games of bowls, buy food (they serve both Thai and western dishes) and even get a tower of beer, and four of you can walk away after a fun evening having spent no more than $50.
Related: Centerpoint at Major Ratchayothin mall has the cutest and trendiest shops — cheap too
Be warned, the quietest time to go is in the afternoon as, in the evening it is busy and the music is loud. If noise doesn't bother you though, you will enjoy the energy and have a great time.
Major Ratchayothin is at the corner of Ratchadapisek and Pahonyothin roads in northern Bangkok.
Siam Paragon – Just about the best bowling alley in the city is the one at Siam Paragon, Bangkok's upscale mall and home to one of the ritziest bowling alleys in the city. Called Blu-O, it's more expensive than other bowling alleys but is world-class and absolutely enormous.
There are 38 lanes, karaoke rooms if you don't feel like bowling, and a restaurant that serves excellent, if not pricey, food.
Blu-O runs many promotions too, with cheaper prices for students, summer rates and even specials for holidays like Christmas and Chinese New Year.
Siam Paragon is next to Siam sky train station and Blu-O is on the fifth floor in the Cineplex movie area. Check out their website for more information.
Central World Plaza – Known as Major Bowl, the bowling alley in the Central World Plaza mall is also spectacular. Located in Bangkok's largest mall that was renovated just a couple of years ago, it has 32 bowling lanes, as well as some of the coolest karaoke rooms in the city.
Time on the bowling lanes is limited to three hours per visit, so you often don't have as long to wait here as at some other Bangkok alleys.
Central World Plaza is accessible from both Chidlom and Siam sky train stations.
Mahboonkrong (MBK) – SF Strike Bowl is a popular bowling alley for university students, as it is located in MBK mall, just across the street from Chulalongkorn University.
The bowling alley gets busy in the evenings when, to the uninitiated, it seems more like a nightclub than a bowling alley. Futuristic and high-tech with lots of neon lights, SF Strike Bowl has a live DJ who plays amazing music.
Related: How to get to MBK, and what to buy when you do
There are 26 lanes, a couple of VIP lanes, a bar and a lounge where you can go to relax if you're tired of bowling.
SF Strike Bowl is in MBK mall right next to National Stadium sky train station.