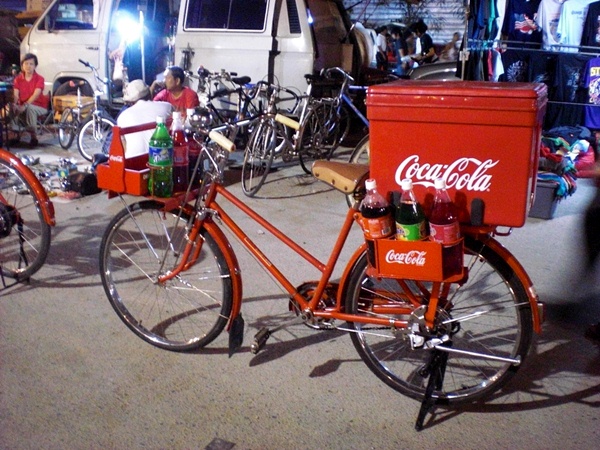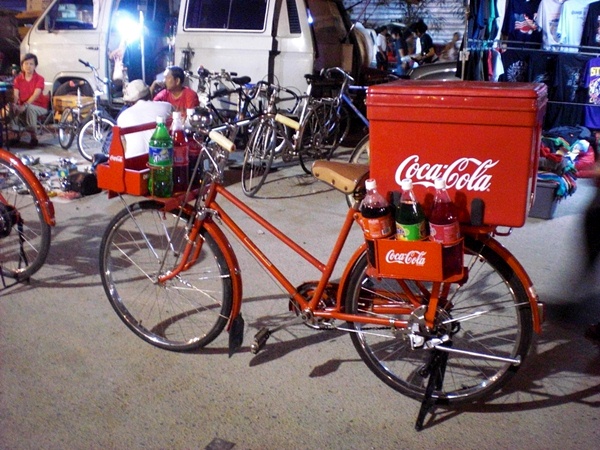 One of the most popular things to do in Bangkok at night is to shop at one of the night markets. As evenings in Bangkok are much cooler than during the day, it's pleasant to be able to shop without having to worry about the excessive heat. Bangkok has many night markets.
Some Bangkok night markets are only for tourists, some are popular with tourists and Thais and some only popular with Thais, as Thais are the only ones who know about them. If you like shopping at night markets, you mustn't miss these best Bangkok night markets. Prices are cheap, there's a massive variety of products and the food is great too.
Suan Lum Night Bazaar – Of course, the big daddy of night markets in Bangkok is the Suan Lum Night Bazaar. Built as a tourist destination, it's actually popular with tourists and Thais, as it's not only a great place to shop but also to eat, drink and have fun. Suan Lum has well over 2,000 stalls selling Thai handicrafts, clothing, CDs and DVDs, paintings, home accessories, shoes, food, Thai silk and more.
Suan Lum Night Bazaar is amazing for the incredible variety of items available but it's also a fun place to hang out with friends, eating and drinking. The night market has several beer gardens, an enormous food court with live music and dancing, a puppet theatre, many indoor and outdoor restaurants and a famous Thai coffee shop – popular with Thai young people especially. Suan Lum Night Bazaar is easy to get to as it's next to the Lumphini underground train station.
Major Ratchayothin Night Market – A popular night market for young people in Bangkok is the Major Ratchayothin Market. Located right next to the cineplex and shopping mall, Major Ratchayothin, there's around 100 stalls selling mainly clothing, shoes and jewelry.
Popular with Thais, you don't see many foreigners or tourists here, which is why you get clothing and accessories that are very fashionable and unique. The night market also has a few food stalls and drinks stalls and a cute Volkswagen van that arrives late afternoon and sets up a street side cafe complete with coffee and fruity drinks. A few nights a week there's also a blanket night market outside Major Ratchayothin cineplex, set up by university students, and selling cute gift ideas, t shirts and accessories.
Major Ratchayothin is a fun night market as it's right next to the Major cineplex and Major Avenue restaurant complex. So, after shopping at the market, you can get dinner at one of Major Avenue's many upscale restaurants or see a movie at Major Cineplex. There's even a McDonald's McCafe, for a quick latte or an ice cream. Get to it by taking the underground to Pahonyothin station, then taking a ten minute taxi ride.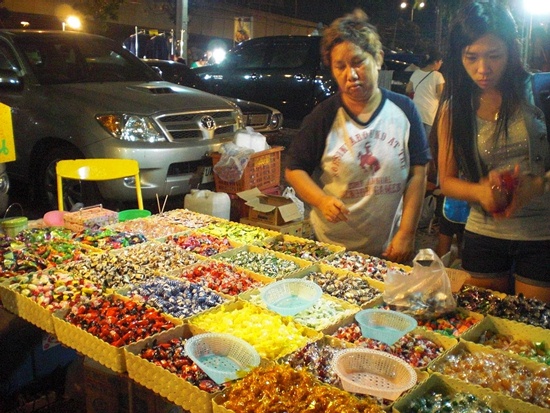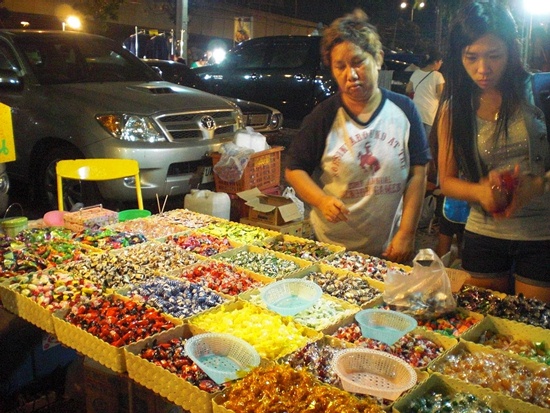 Ratchadapisek Night Market – Rapidly becoming the most popular night market in Bangkok, Ratchadapisek Night Market (also known as Ratchada-Lad Prao Night Market) is only on Saturday evenings from dusk until midnight. Set up on a plot of spare land, it's a bit dusty and can be muddy if it's rained so make sure you wear the right footwear.
Ratchadapisek Night Market is incredible for the antique bric-a-brac, second hand products, shoes, clothing, stall after stall of car and motorbike parts, jeans, CDs and many unique items you'll never see anywhere else. Many of the stalls are run by Thai university students or young adults.
The coolest thing about the market are the hundreds of shiny, classic Volkswagen bugs, Volkswagen vans and classic motorbikes and scooters people bring in either for sale or just to display for admiration. Some of the stalls are even set up inside VW vans and several of the cool coffee shops and cafes have their counter inside a VW van.
Ratchadapisek Night Market is purely Thai, so you'll get a true Thai experience here. You'll also get some incredible bargains if you rummage through things carefully (I recently bought a vintage View-Master for only $3). To get to the night market, take the underground train and get off at Ratchadapisek station. The attendant at the train station booth will be able to tell you which exit and where to go to get to the market, but it's literally a two minute walk from here.
Just one addition, Patpong Night Market is recommended to tourists by tour groups and tour guides. Avoid it like the plague. It's in a seedy sex club area, is very expensive and is only for tourists. At Patpong Night Market, you will get ripped off and have a miserable time. Stay away.