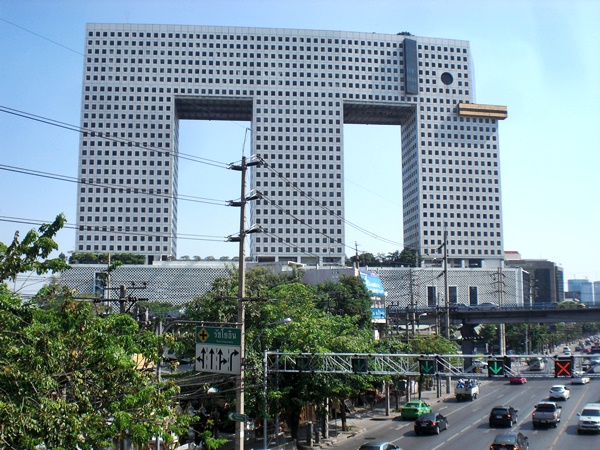 In the many years I've been in Thailand, one thing I have always loved is the Elephant Building. Known by the Thais as 'Tuk Chang', the Elephant Building is one of Bangkok's most iconic buildings, seeing as how it's absolutely huge, you can see it for meals and, oh yeah, it looks like an elephant. In fact, although I have probably seen the Elephant Building several thousand times, as I live so close to it, I never get sick of it.
Thais seem to see Tuk Chang and not see it, if you know what I mean. It's just there, it's always been there and, if I ever say to a Thai I think it's incredibly cool, I usually get the response "It's normal". After all, it's been visible on a huge part of the Bangkok skyline since 1997 so they're just used to it.
The Elephant Building, by the way, was designed by architect Ong-ard Satrabhandhu. It has 32 floors, a swimming pool, a bank and a post office and various restaurants and cafes in the basement area. AUA, the English-language school is also located there.
If you'd like to see Tuk Chang in all its glory, all you need to do is head to the intersection of Ratchadapisek Road and Pahonyothin Road. It's right before the corner but, honestly, it's impossible to miss — you'll see it from miles away.
A hotel also opened in the Elephant Building just a couple of years ago. It started out life as the Best Westin Tuk Chang but seems to have changed hands as it's now called the Iyarin @ Tuk Chang Hotel. Personally, I think it would be as cool as anything to stay in the Elephant Building. In the belly of the beast, you might say, although frankly Thai elephants are far less 'beast' like than you might imagine.

For today's Daily Photo, therefore, please enjoy this one of Bangkok's Elephant Building and, for good measure, the one below taken from the opposite side. Lovely, isn't it?