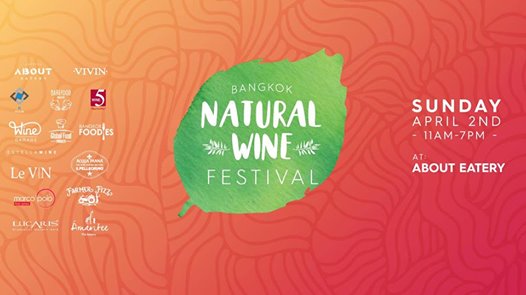 Bangkok's first 'Natural Wine Festival' looks like a lot of fun
Bangkok restaurant About Eatery will be the location of the city's first ever Natural Wine Festival on Sunday, April 2nd, and it looks like it's going to be fabulous.
The event will feature organic, natural and biodynamic wines and, with more than 50 wines to taste during the festival, plus artisan food and music and entertainment to enjoy, at 500 baht a ticket this one is a steal.
The Natural Wine Festival will take place from 11am to 7pm but, if I was you, I'd get there earlier rather than later as there will only be 200 people admitted throughout the day.
And if you are an aficionado of organic, natural or biodynamic wines, About Eatery is the best place to enjoy them, whether during the Natural Wine Festival or afterwards.
After all, the restaurant has the largest selection in Thailand, and pretty great food too.
About Eatery is located at Sukhumvit 21, Soi 3, Ocean Tower II in downtown Bangkok.