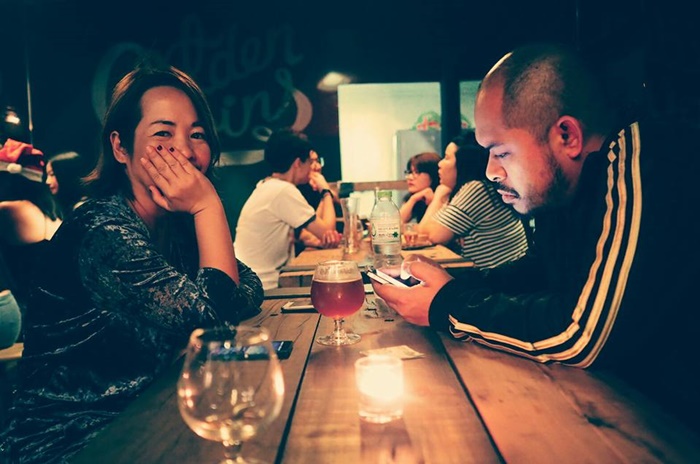 Due to Thailand's archaic brewing laws, craft beer in Bangkok can be difficult to find
If you are looking for a good craft beer in Bangkok, look no further than GoldenCoins Taproom. A relatively new venture for local brewer Pipattanaphon 'Pieak' Pumpo, GoldenCoins Taproom is where he serves his craft brews and nothing else.
Inside, you will find long rustic wooden tables with wooden stools, chalkboard menus, an excellent DJ spinning mellow tunes, and a dark and rich atmosphere. Later in the evening, live music takes to the small stage.
Outside, there's a small patio where GoldenCoins Taproom just updated their taps and now serves 12 different craft beers at all times. Some of the beers tend to be from Pumpo's core beers, while the others are from a revolving menu of craft beers that change as he and his brewers try various recipes to suit many different palates.
In the past, beers have included IPA beers, pale ale, amber ale, caramel toffee porter, an American pale ale, a New York cheesecake porter and a pilsner.
Prices too are reasonable, with most beers in the 150 to 180 baht per glass range. Even cheaper if you arrive at GoldenCoins Taproom's happy hour between 5 and 7pm, when all beers are only 100 baht.
It's not just some of the best craft beer in Bangkok at GoldenCoins Taproom either. The beer bar also serves a varied and inexpensive menu that includes steak, fish and chips, pork knuckle, burgers, Thai sausages and chicken wings.
If you're looking for a relaxing place to hang out after work, where you can drink a few beers, listen to chill music and talk to friends, GoldenCoins Taproom is a great choice. Throw in their excellent food, and this hangout could become one of your locals.
You'll find GoldenCoins Taproom at Ekkamai Mall, Ekkamai Soi 10 in downtown Bangkok. You can call them at  +66 82 675 9673.