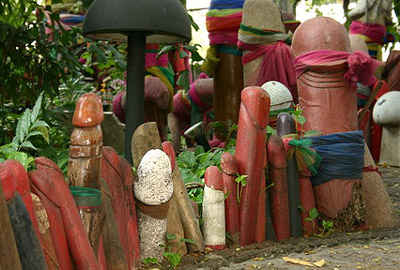 Having problems conceiving? Tried all the fertility treatments and nothing is working? Then why don't you pay a visit to the Penis Shrine in downtown Bangkok, Thailand?
The Penis Shrine, otherwise known by its real name the Chao Mae Tuptim Shrine, is hidden away in Nai Lert Park next to the hotel of the same name, the Nai Lert Park Hotel (used to be the Hilton Hotel). The shrine was originally dedicated to Chao Tuptim, a female animist spirit who people believe has been residing in the banyan tree next to the shrine for hundreds of years.
Years ago though, a woman came to pray at the shrine asking for help from Chao Tuptim because she couldn't conceive. Nine months later, she gave birth to a healthy son.
She was so pleased with her child that she came back to the shrine and left a large wooden carving of a giant penis in thanks. Others followed her lead and today, if you visit, you will see literally hundreds of wooden penises, all different colors and sizes.
Some have colorful pieces of fabric tied around them to protect them. Others are dyed red, blue or green. But all of them give off the same message. Offer up a penis to the shrine, and you too can witness the miracle of conception.
Apparently, the Nai Lert Park Hotel has been dismayed about having the shrine on their doorstep and having tourists trooping through their hotel to get to it. So they have tried to stop access to the shrine, by dissuading tourists from walking through the hotel.
It is still accessible, however, from the back of the hotel and is such an interesting shrine; it would be a pity to miss it. Unlike other shrines in Bangkok, it is also quiet, so most of the time you will find yourself alone there, able to pray or give things to Chao Tuptim without being disturbed. It is also pretty in the park away from the pollution and traffic of downtown Bangkok.
The last time I went, I found the easiest way was to follow a walking tour from a book by G. Byrne Bracken, called 'A Walking Tour – Bangkok'. I came out of Chidlom sky train station and walked down Ploenchit Road away from the direction of Ratchadamri Road. I turned left onto Soi Petchburi 34, turned immediately left again into a small lane, and then crossed the bridge over the small canal and into the grounds of the Nai Lert Park Hotel.
The shrine is on your left hand side.
Ignore the security guards at the gate as the park does not belong to the hotel so they have no right to restrict access. Plus, Thai security guards being what they are, underpaid and consequently lethargic, they really couldn't care less what you are doing back there.
Don't forget your camera too, as you can get some great shots of enormous phallic symbols, but also remember it's not just for women. Thais of both sexes pray here.
The women usually pray for help with fertility, the men because the phallus is also known as a symbol of financial prosperity in Thai culture. So if you couldn't care less about that kid, but really need the moolah, the Chao Mae Tuptim Shrine could also be for you.