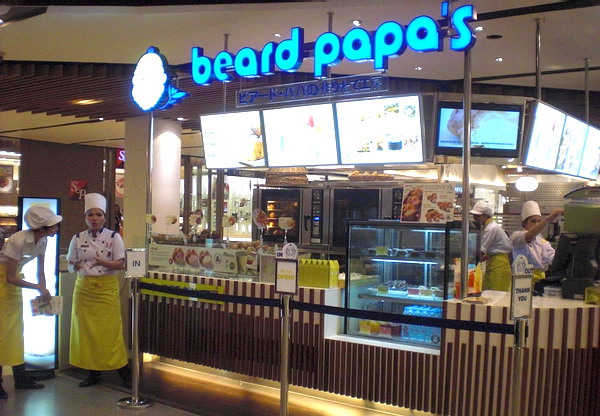 On a shopping trip to Central Ladprao mall in northern Bangkok, Thailand yesterday, a friend and I took a break from shopping and ate dessert at a Japanese cream puff shop called Beard Papa's.  Intrigued by the fact it should be 'Papa's Beard' (this is what happens when something is translated directly from Japanese into English), my friend and I decided we must eat dessert there, as the name was just so wrong. Rolling out of the shop a while later, stuffed to the gills with cream puffs and melted chocolate bombs, I'm already dreaming of my return to Beard Papa's.  In fact, I'm going back today.
Location of Beard Papa's – There are several Beard Papa's in malls around Bangkok. The location we ate at was a new branch on the first floor of the newly renovated Central Ladprao mall. You'll also find them at Seacon Square, Emporium, Siam Paragon and Siam Center.
Beard Papa's Food Products – Mainly known for their cream puffs, with many different fillings, Beard Papa's also sells chocolate bombs, Japanese mochi ice cream and cheesecake. Products vary daily, as they rotate what's on offer, so one day you may find green tea cream puffs among the offerings, the day after strawberry and coffee.
We started out with a a chocolate marshmellow cream puff, and a plain vanilla one, and followed our order up with a chocolate bomb — a small, round chocolate cake that's put in the microwave and melted, before it appears, oozing chocolately goodness, at your table
Biting into the cream puffs, they were delicious, although not as sweet as I would expect. But, not enjoying sickly sweet desserts too much, I liked that. The chocolate bomb chocolate was perfect, if you concentrated on the runny chocolate center. The cake outer shell, on the other hand, was a bit stodgy and rubbery. But…..still worth it for the runny Belgian chocolate they use to stuff it with.
Afterwards, we both left Beard Papa's feeling more than a little sick. Not because we didn't like the desserts, we did. Only that we ate too much and, next time, should probably pace ourselves a little.
Prices at Beard Papa's – The best deal at Beard Papa's, in my opinion, is the chocolate bomb. Only 45 baht ($1.50), the chocolate hit the spot perfectly and, price-wise, it didn't break the bank.
The cream puffs, on the other hand, are a little too expensive. They're currently running a promotional special, with cream puffs at 55 baht per piece ($1.80). Not expensive by western standards but, when I can walk downstairs to one of several Thai bakeries and buy a similar cream puff for 15-20 baht (50-66 cents), I did kind of begrudge paying almost three times as much.
Having said that though, for a sit-down dessert in a cute cafe, Beard Papa's is still cheaper than many other dessert cafes around Bangkok. That, and for the chocolate bomb, I'm going back today.
Beard Papa's cafes are small and cute and, for traditional Japanese desserts, are worth trying. They also have an extensive selection of drinks — coffees, teas, (iced and hot), fruit juices, shakes and freeezies. After an afternoon of exhausting shopping at one of Bangkok's crowded malls, a Beard Papa's chocolate bomb and an iced coffee is a very nice pick-me-up.