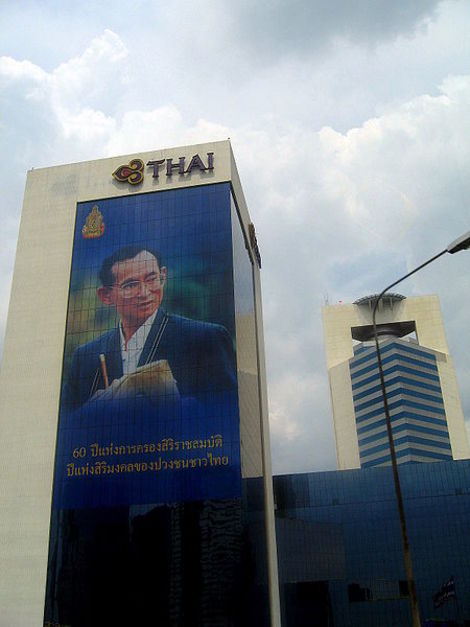 Several years ago, I took a taxi on Ladprao Road in Bangkok, Thailand and asked the driver to take me home.
In his unfamiliarity with the northern Bangkok neighborhood, he took a wrong turning behind the Thai Airways building and we ended up in an area of the city I had never seen before. But, instead of getting angry with the driver, I was soon singing his praise as the wrong turn had taken us into the middle of an amazing local market I had not previously known was there.
Known as "Behind Thai Airways Market" or, in Thai, "Kanbin Thai Talad" (also known as "Lung Perm Market"), the market is one of the best places in northern Bangkok for cheap clothing, accessories and wonderful food.
Location of Behind Thai Airways Market – Situated, yes, right behind the head office of Thai Airways in northern Bangkok, you will find Kanbin Thai Talad (Lung Perm Market) just off Vibhavadi Road, beginning on soi 22. The market is set in one large square, with tiny alleyways threading through the market and linking each area. Start off at one small section and work your way through.
The easiest way to get there is to take the sky train to Mo Chit station, then hop on a motorcycle taxi to Kanbin Thai Talad.
What to Buy at Behind Thai Airways Market – Primarily a market for clothing, shoes and accessories, with lots of other items available too, unlike many similar markets in Bangkok, if you're a westerner or a larger Thai woman or man, you will find bigger sizes here you can't always find in other shopping venues in the city.
The main things most Bangkokians shop here for are imported designer clothing, shoes or accessories, or knock-off items, many of which have come into Thailand from Cambodia. The products are made in factories in Cambodia that produce goods for export markets in the US, Australia and Europe, which is why you can buy so many larger sizes.
There are also shops selling second-hand clothing from Korea and Japan.
Some items are from overstock, some are slight seconds — just check everything carefully before you purchase it. Others are items that have been imported cheaply into the country by vendors who sell to people who want more upscale products, but don't want to pay ridiculously high prices.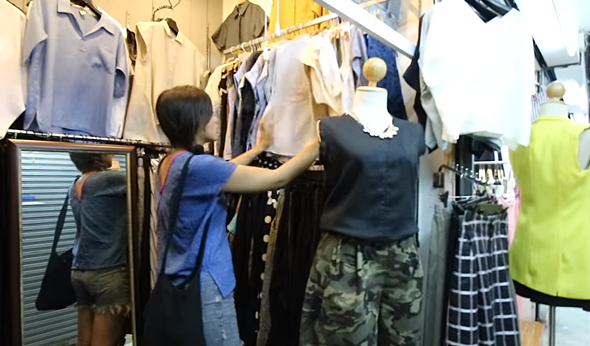 Brand name clothing, bags and accessories — Keep an eye out for brand name designer clothing, bags and other accessories.
You will also find amazing bargains for locally-produced shirts, t shirts, pants, skirts, shoes, and belts. In fact, don't be surprised if you leave Kanbin Thai Talad with several t shirts, a shirt, a belt, a pair of shoes, a bag and a few bags of Thai snacks, and still have spent less than 500 baht ($16.40).
Don't miss checking out the Thai snacks stalls, shops that sell baked goods and, of course, the street stall food.
As Behind Thai Airways Market is in an area of Bangkok frequented by office and shop workers, many stalls make food that these workers will buy for lunch or to take home for their families' evening meals.
So why not join the crowd, and eat your lunch here too? The selection and quality is excellent and, with dishes as cheap as $1 a meal, you shouldn't pass it up.
If you want to avoid the crowds and see the best display of items at Kanbin Thai Talad, go to Behind Thai Airways Market between 11-12 am. After that, until around 2pm, the market is packed with local workers shopping on their lunch breaks, or eating lunch here, and it tends to get crowded.
While you are there, don't miss some of the local shops in side streets around the market area too. They are a good place for food, fruit and vegetables and household supplies, as prices in this entire area are cheap.
Check out the video below from Go with Yogi, as she does some shopping at Lung Perm Market.