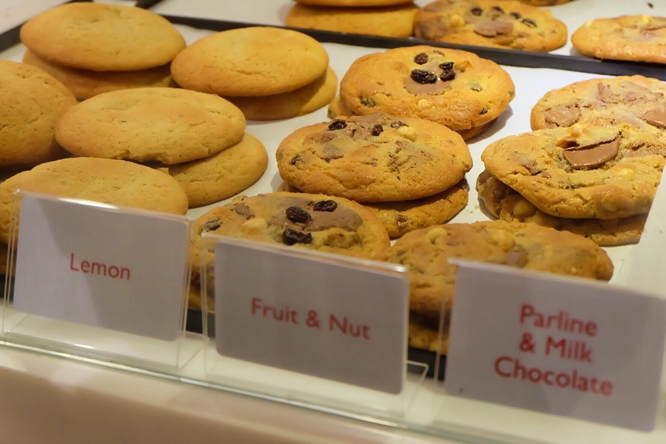 Ben's Cookies opens at Siam Paragon, Bangkok with huge lines and free cookies
One thing I always think is interesting is how Thais jump on the bandwagon every time a new western restaurant or food outlet opens in Bangkok, and lines suddenly develop around the block for an American-style doughnut or bagel.
Some Thais will stand in line for a couple of hours just to buy a doughnut that is often treble the price of a Thai doughnut, and not that much better.
No, I don't get it either.
This week there was another surge of Thais standing in massive lines for western food. This time at Siam Paragon where Ben's Cookies, a British cookie kiosk that sells delicious (although expensive) cookies, has just opened.
And sure, Ben's Cookies are delicious, especially their ginger and dark chocolate cookies, their lemon or their double chocolate and nut but, come on, people, they're cookies!
Which means, for me, I'll wait a couple of weeks until the lines die down, and then go to Siam Paragon and buy my Ben's Cookies then.
If, however, you just must buy Ben's Cookies in Bangkok now, here is what you need to know to do so.
Prices of Ben's Cookies at Siam Paragon
Ben's Cookies are 75 baht each (around $2.05, which bear in mind is just about the cost of two meals at many Thai food courts — just sayin'). Or 375 baht for five and 750 baht for 15 cookies.
When I was there a couple of days ago, Ben's Cookies were also giving away free cookies in that, if you bought a box of five, you actually got seven, and that is actually quite a good deal.
And if you would like to give Ben's Cookies as a gift, the kiosk also sells pretty gift tins. They sell for 365 baht for four cookies and 645 baht for a tin of eight.
If you want to see what the Ben's Cookies kiosk looks like, and how many people stood in line for ages just to buy them, watch their video below. It is cute.
You can also find out more information on their Facebook page.
Ben's Cookies are located on the ground floor of Siam Paragon, and you will find them easily if you just look out for the bright red kiosk.