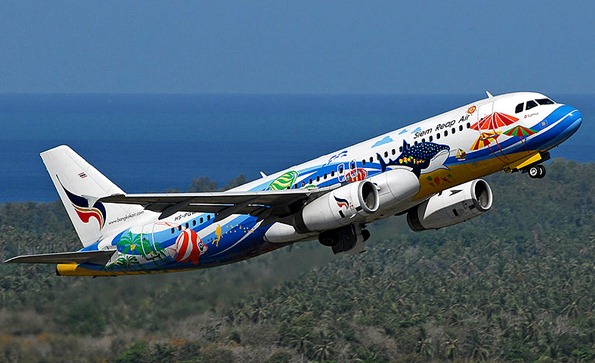 If you're looking for some of the best airlines to fly for flights within Thailand, you're at the right place. Over the more than 10 years I've lived in Thailand, I've flown every airline in the country and can tell you quickly which three airlines are considered the best if you want to travel from Bangkok to Chiang Mai, Bangkok to Phuket, or Chiang Rai to Hua Hin and many other places in between.
Air Asia – Air Asia is considered the best airline to fly for travel within Thailand, simply because it's cheap. With flights to many places in the country at $125 or less round-trip and Air Asia flights out of low-budget airport Don Mueang, you don't have to spend too much money to be able to fly from Bangkok to Phuket, Hat Yai to Bangkok or many other popular destinations.
Air Asia currently flies from Bangkok, Phuket, Chiang Mai, Chiang Rai, Krabi, Udon Thani, and Hat Yai, as well as various other cities. You can get a full list of the cities they service, as well as price quotes for any flights you would like to take at their website
Thai Airways – While no-one would ever call Thai Airways a cheap airline, they do provide a good service. They also fly to most places in Thailand that have airports and have several flights a day to each destination, so they are a convenient Thai airline to fly.
They also tend to be much better at departing and arriving on time than various other airlines in the country, which if you have to be at your destination by a certain time can be worth a few extra dollars.
The best place to get the cheapest rates for Thai Airways is on their website, as they often run sales and other special deals here that aren't available by phone or through a travel agent. One way they beat out the competition too is if you're traveling with a lot of luggage, as many of their specials will allow you to take much more with you than a budget airline would for the same price.
Thai Airways also services many governmental agencies, including many flights of members of the Thai government, so the service on-board tends to be very good. You can find out more, as well as book flights, at the Thai Airways website.
Bangkok Airways – Bangkok Airways serves much of Thailand and they do a darned good job at it as well. Known as one of the best airlines to use for flights within Thailand, just about everyone I know checks the cost of flights on Bangkok Airways before they book with any other Thai airline, as their prices can be hard to beat
You can fly with Bangkok Airways several times a day out of Bangkok's Suvarnabhumi Airport to Chiang Mai, Koh Samui, Krabi, Lampang, Sukhothai, Pattaya, Lampang, Phuket and Trat. Flights begin at just a little under 3,000 baht ($98) but, as they do often run sales, you can find Bangkok Airways flights even cheaper then.
Don't forget to also join the Bangkok Airways' Flyer Bonus program as, if you do, you'll get an extra 10 kilograms baggage allowance with most flights.
Find out more about the airline and check prices of flights at the Bangkok Airways website.
These three Thai airlines are the best airlines to fly for flights within Thailand and, in two out of the three, usually offer some of the cheapest prices.