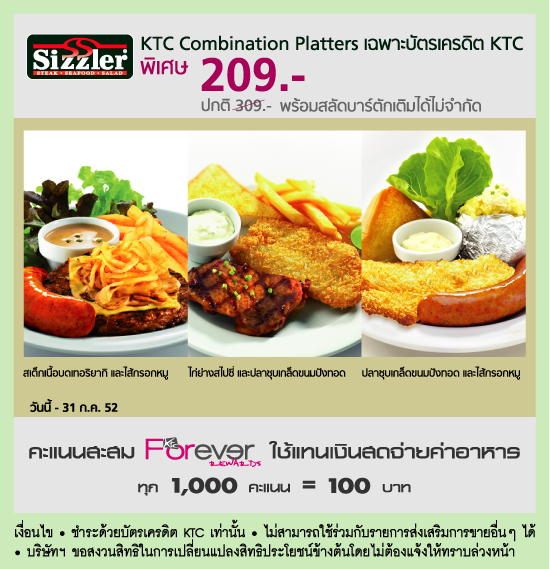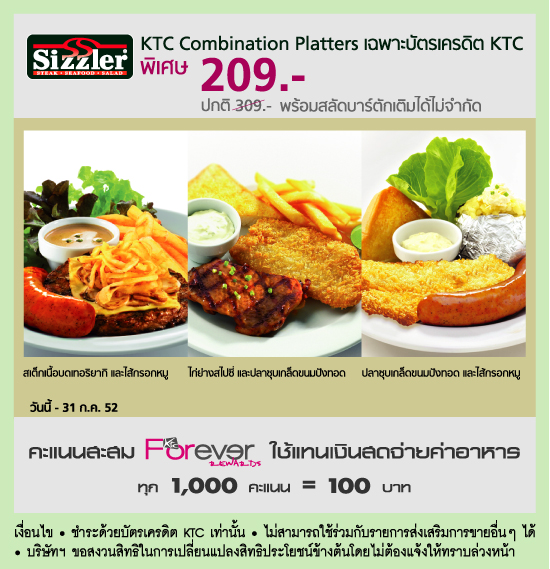 In the last few years, Bangkok, Thailand has become the place to dine out if you're a fan of all-you-can-eat restaurants. The usual huge salad bars are available, but Thais really go to town when it comes to all-you-can-eat noodles and sushi too. If you love eating until you need to be rolled home, you will love these top three all-you-can-eat Bangkok restaurants.
Sizzler's All-You-Can-Eat Salad Bar – Yes, this Sizzler is the same American company we're used to. But unlike in the US where Sizzler tends to be in low-income neighborhoods and serves low-quality food, in Bangkok, Sizzler is an upscale restaurant with a more affluent clientele. The food is better too.
In Bangkok, Sizzler is known for its all-you-can-eat salad bar. For 139 baht (around $4.50), you can eat salad until the cows come home. The reason why the salad bar in Bangkok's Sizzlers are popular though is the variety of food available. Of course, there's the usual platters of lettuce, tomatoes, cucumber and croutons, but the other stuff is where Sizzler excels.
Expect bowls of pasta salads, greek salad, waldorf salad, pumpkin cashew salad and apple salad. There's also lots of fresh fruit. Every Sizzler all-you-can-eat salad bar also has three or four soups to choose from (the tom yum soup and pumpkin soups are excellent and, if clam chowder is available, you must eat that). Plus, once you've finished all these goodies, don't forget to go back for some dessert – jello with whipped cream, chocolate mousse or raspberry chiffon.
You can also order the all-you-can-eat salad bar at Sizzler for only 99 baht ($3) if you order it with an entree. Remember though, Sizzlers is extremely popular so, if you go during peak lunch or dinner times, you could have a half hour wait. You'll find a Sizzler at most malls in Bangkok as well as at stand-alone locations, and it's easy to see why they're one of Bangkok's top three best all-you-can-eat restaurants.
MBK's Kanom Jeen All-You-Can-Eat Buffet – If you love Thai food you must eat at Mahboonkrong's (MBK) Kanom Jeen buffet. For only 59 baht (less than $2) you can eat as much kanom jeen as you like. If you don't know what kanom jeen is, you're in for a treat. It's a traditional Thai noodle dish, served with a choice of curries (fish curry, chicken curry etc), and topped with cabbage, pickles, cucumbers etc.
You'll find MBK's kanom jeen buffet on the 5th floor of Mahboonkrong (MBK) mall. Just go up the escalators and bear right. It's near the international food court. Just look for the long line.
Oishi Grand All-You-Can-Eat Japanese Buffet – If you like sushi, try the upscale Oishi Japanese buffet on the second floor of the Siam Discovery mall in downtown Bangkok. A chain Japanese restaurant, this Oishi specializes in an all-you-can-eat lunch and dinner buffet that, for the price, is excellent.
The Oishi Grand buffet features everything from sushi, tonkatsu, grilled fish, smoked salmon, crab, octopus, squid and jumbo shrimp to filet mignon. There are also tables laden with fresh vegetables, salads and fruit. Most of it is cooked the Japanese way – light, with low oil – and with very fresh ingredients.
For lunch, the cost of their all-you-can-eat buffet is 550 baht ($17) and for dinner, 650 baht or $20. This also includes all the soft drinks you can drink.