Bangkok's most popular mall is Mahboonkrong (MBK) mall, located right in the city center next to National Stadium sky train station. MBK is a discount mall, with seven floors stuffed with shops and market stalls selling some of the cheapest items in Bangkok.
For first-time visitors to MBK though, there are five things that are must buys if you want to get the best deals in town.
Cell Phones – Mahboonkrong (MBK) is the most popular place in Thailand if you are looking for a cell phone. With more than 200 stalls and small shops selling mobile phones, both new and used, and just about every brand of phone available, you can't go wrong here.
New phones are cheaper than anywhere else in Bangkok, just make sure when you buy it it's in a sealed box with all the manuals – that way you're sure it's new.
Used phones are an excellent deal at MBK too, as Thais trade in their phones for the newest model often, so it's easy to buy a barely-used phone for a cheap price.
Look for Nokia, Samsung, Sony, Apple iPhones, LG, Huawei, Motorola, and just about every other cell phone brand. Remember too, the cell phone area is technically one large market, so you can bargain if you feel the price is too high.
Shoes – Mahboonkrong is one of the top places in Bangkok for shoes. If you want to buy shoes for work or for casual wear, everything is available here from cheap fashion sandals starting at 199 baht ($6.60) to handmade leather shoes from 1,000 baht ($32) on up.
Related reading: How to get to MBK Mall, and what to buy when you get there
You'll also find a superb selection of running shoes, hiking boots, flip flops, work shoes, Crocs and more. Prices for shoes at MBK are 30-60% cheaper than many other places in Bangkok, and quality is generally good.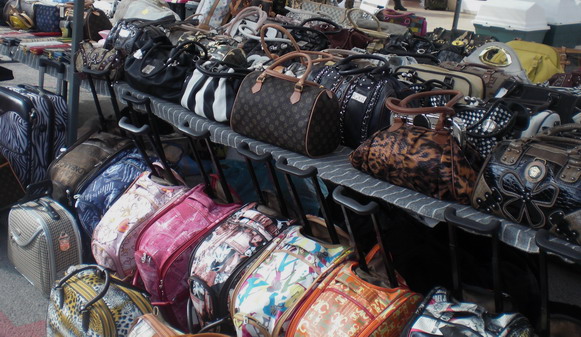 Bags, Purses and Wallets – Around 90% of the bags I own, and I own a lot, I've bought at MBK. In fact, they are about the best thing you can buy at MBK as there's such an enormous selection.
Some of the best MBK bag shops to start off at are the ones selling inexpensive fashion bags, canvas bags, shopping bags, evening bags – you name it they sell it, and many go for the same price – 199 baht ($6.60). They're wonderful for gifts to take back home too.
If you're looking for higher-end items, look in the more than 20 leather luggage and bag shops, as here the quality is gorgeous, the leather soft, and the price a fraction of a leather store outside MBK. You'll find everything from conservative purses, designer wallets and leather briefcases, to bright orange, yellow or purple modern leather shoulder bags all hand-tooled and designed.
Expect to pay between 1,500-3,100 baht ($48-$100) for most leather bags, but the quality you'll get would be more than $300 in most western countries.
Luggage and Backpacks – For most people who visit Bangkok on vacation, they end up buying too many things as the cost of living is so cheap. That also means, before they return home, they have to buy another piece of luggage to fit all their new stuff in. That's where shopping at MBK is the best choice.
MBK has more than 50 stores and market stalls selling all types of luggage from hard-case suitcases like Samsonite and Swiss Army to large soft canvas bags on wheels. You'll also find an enormous selection of backpacks at MBK, and with prices beginning at 199 baht ($6.60), there's really no need to buy one anywhere else.
T Shirts and Shorts – Every family member and friend I've had visit me in Bangkok has spent much of their vacation at MBK stocking up on t shirts, as MBK is the best place to shop for them in the city.
At MBK, you'll find more than 200 stalls and shops selling t shirts and shorts – designer-style t shirts (many are bootleg designer shirts, so it's up to you if you buy them), football shirts, hockey shirts, BAPE shirts, Disney shirts, army fatigues, country and western shirts, shirts featuring music bands and famous singers, men's, women's and children's shirts – you name it, MBK has it.
Most t shirts range between 99-199 baht ($3.20-$6.60) and the quality is superb.
Not only does Mahboonkrong (MBK) sell just about anything you're looking for, it's cheap, there are more than 200 restaurants, cafes and food stalls to eat at when you need a break from shopping and, the best part, it's just like a Thai market but it is indoors so it's air conditioned – no need to contend with the stifling hot Bangkok heat.
Now watch the video below, and you'll get a superb idea of just how many shops there are in MBK and what you should look for when you go.