Bangkok, Thailand is one of the top cities in the world to shop for Asian antiques, reproductions and collectibles. With antique stores selling Thai, Laos, Burmese, Cambodian, Chinese and Malay antiques and collectibles, there's so much choice and so many beautiful items, you'll feel like you died and went to heaven.
Bangkok also is a wonderful place to find reproduction antiques, as with so many Asian antiques being expensive, Thai craftsmen have produced gorgeous quality copies at a fraction of the cost. If you're going to be in Bangkok antique shopping or looking for high-quality reproductions, you can't go wrong at these best Bangkok antique and collectible venues.
River City – The most famous place in Bangkok for antiques, collectibles and reproductions is the River City shopping complex, on the banks of the Chao Praya River. Antique collectors enjoy shopping here as there is a large selection of antique and reproduction antique shops, with everything from Thai, Burmese, Chinese and Cambodian antiques and artwork, to some European pieces, sculptures, paintings, wood carvings, jewelry, table ware, vases, statues, prints, maps, pottery, pewter, Buddha images and much more.
Prices at River City are at the high-end but here you will find genuine antiques, stunning collectibles and top-quality copies.
The antiques here too are legal to sell (some antique stores in Bangkok illegally sell smuggled Cambodian, Burmese, Chinese and Laos artifacts that are not legal to buy or to ship out of Thailand), and they're very knowledgeable about their wares.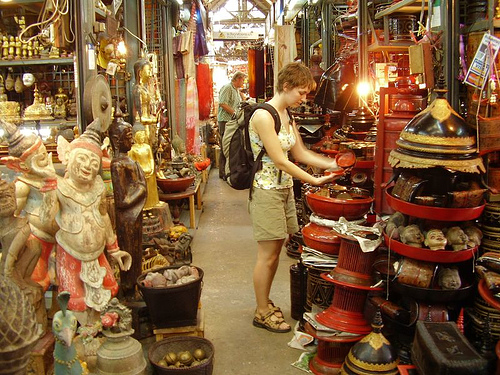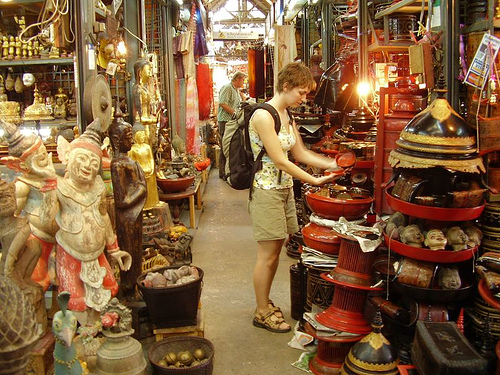 Chatuchak Weekend Market – At the massive Chatuchak Weekend Market (open Friday evenings and all day Saturday and Sunday), you will find over 300 stalls selling antiques, reproductions and collectibles.
Stalls vary from stalls that look like they sell old products but are simply well-crafted reproductions, to stalls that do sell genuine antiques. At Chatuchak though, you really need to know about antiques and be able to spot a fake or a reproduction, or you'll find yourself going home with something you were told is 200 years old only to later discover the "Made in Thailand" sticker at the bottom.
Chatuchak is a fun place to shop though, particularly if you're looking for collectibles or reproductions, but you'll even find the odd antique here that may just be looking for a good home.

Paul's Antiques – If you are in the market for antique furniture, you must visit Paul's Antiques. He has an incredible collection of Burmese antique furniture, collectibles and accessories, and his prices (for the quality) are low. Paul's also sells some pieces that are new, but have been made from old Burmese and Thai wood.
At Paul's Antiques you'll find antique desks, chairs, tables, hampers, wash basins, wedding chests, donation boxes from temples, and all kinds of other things. You can also see photographs of much of his stock in his website before you visit, or buy online if you prefer.
House of Chao – Not known by many people outside Bangkok, House of Chao is a funny old antique shop that's dusty, crammed to the rafters full of unusual things and, if you're looking for teak furniture or accessories, this is the place to come.
House of Chao is a little difficult to find, but take a taxi to 9/1 Th Decho, Bang Rak. The Thai lady who owns the store is delightful.