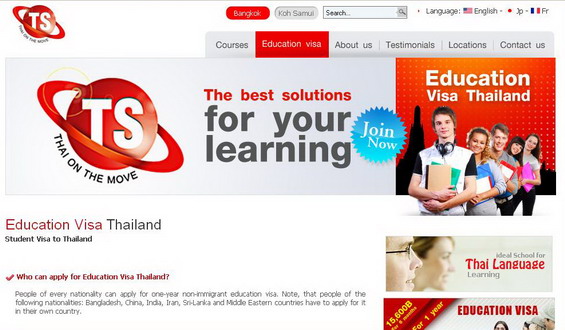 Learning Thai isn't easy as it's a tonal language with a completely different alphabet than European languages, yet, if you learn at the right Thai language school in Bangkok, you can learn it fast. I've taken Thai language classes in several systems in various Bangkok language schools, but these places I think are the best places in Bangkok to learn Thai.
Piammitr Language School, Bangkok – I took two Thai language courses at Piammitr Language School in Bangkok and had an amazing time. Piammitr offers Thai language classes in 60 hour blocks, three hours every weekday morning, or three hours every weekday afternoon for four weeks.
I started level one Thai language at Piammitr and moved on to level two the following month. During two months of learning Thai at Piammitr, I learned so much Thai it was easy to hold simple conversations a month after beginning to learn. Classes are cheap at around 5,400 baht for a month (plus an extra 400 baht for the text book), which works out at about 100 baht ($3) an hour. The teachers are excellent and as the entire class  is held in Thai (no English is spoken) students learn fast. Classes are small too with no more than 3-6 people in a class.
Piammitr Language School also teaches Japanese and Chinese. I'd recommend Piammitr to anyone who wants to learn any language. They're inexpensive, have excellent teachers, they're very professional and, above all, everyone who works there is very friendly. They're located at 10/49 The Trendy Plaza, 2nd Floor, Sukhumvit 13, Klongtoey, Bangkok. Tel: 02-168-7060.
Pro Language, Bangkok – Another popular place to learn Thai is Pro Language, a Bangkok language school that covers subjects useful to know in Thai – how to count, shopping, families, asking for directions, using the telephone. Their system is similar to the one used by Piammitr, and their small classes (3-6 students) are run just as professionally.
Prices for learning Thai language are more expensive than Piammitr and several other language schools, at 9,000 baht for a 60 hour course, but they do offer an entire year of Thai classes for only 25,000 baht (around $833), which can also get you a student visa, allowing you to stay in Thailand for a year without having to do visa runs.
Pro Language also teaches English, Chinese, Japanese, Italian, French, Spanish and Russian. They're also conveniently located 10 th Fl. Times Square Building 246 Sukhumvit Road Bangkok, just around the corner from Asoke BTS (skytrain) station. Tel: 02-250-0072
Thai Language Station (TLS), Bangkok – Another good place to learn Thai in Bangkok is Thai Language Station otherwise known as TLS. A couple of friends have learned Thai here and had nothing but good things to say. Friendly staff, excellent teachers and inexpensive prices (they only charge 4,200 baht for a 60 hour course in small groups of students).
TLS also offers the student visa Thai language course for 23,000 ($766) as well as private lessons for 290 baht an hour (approximately $9.85 per hour). Centrally located like most of the other Thai language schools, you can find them at 14th Floor, Times Square Building, 246 Sukhumvit Road, Bangkok – a stone's throw from Asoke BTS station. Tel: 0-2653-1891
Thai Language Solutions Language School, Bangkok – Thai Language Solutions actually has two branches, one near Nana BTS station and one near Asoke BTS station in Bangkok. They offer group and private lessons and group and private lessons in order to be able to get the education (student) visa, which are classes for a year.
For group classes for the education visa, they only charge 24,600 for a year's study, which is cheaper than some other language schools in Bangkok or you can do a six month course for just 15,600 baht. Thai Solutions also has a very professional-looking set up, with all levels of Thai from beginner to advanced classes offered.
Thai Language Solutions also has a convenient location at 18/8 Fico Place Building – 12th floor Sukhvumvit 21 Rd. (Soi Asoke), Bangkok – Tel: 02-260-6575 and another equally convenient location at 87 Nai Lert Building, 4th Floor, Room 404, Sukhumvit Soi 3-5, Bangkok.
There are many different language schools that offer Thai language classes in Bangkok, but all of these are inexpensive, professionally-run, have excellent teachers and offer all levels of Thai instruction. Be warned, learning Thai for most people is not easy, but it certainly can be fun.