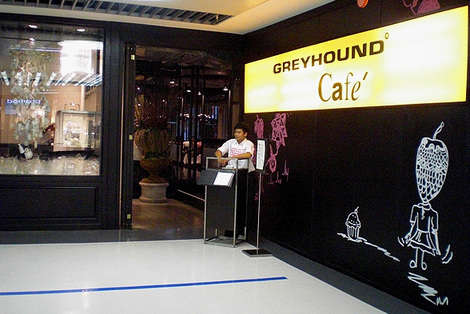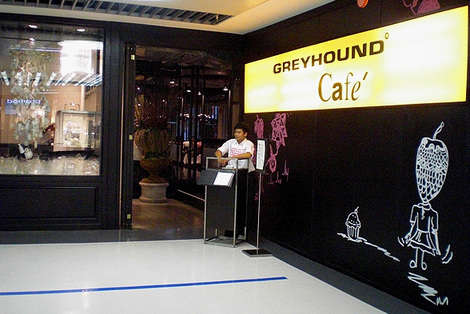 If you've just met a Thai girl in Bangkok, you might not be sure where to take her to eat dinner on your first (or subsequent) dates. As a farang (western) woman who has many Thai female friends, my Thai friends often talk about where they like to go on a date in Bangkok.
If they've had dates with western men before, some of them even laugh about the places where some western guys take them, as they're not always places they normally like to go. That's why, if you have a date coming up with a Thai girl and don't know where to take her, try one of these places. She'll likely be happy and you'll be almost guaranteed a wonderful date.
Greyhound Café – Greyhound Café is a chain of restaurants that serves Thai-fusion and international food. The menu is extensive with pastas, salads, fish, chicken, soups, curries etc. The atmosphere is chic, the décor is stylish and trendy and the clientele is a little upscale.
Every Thai woman I know loves the place, so it's a wonderful place for a date. Dinner for two will cost between 1,000 and 1,200 if you have appetizer, entrée and dessert and drinks, but it will impress her that you like the restaurant. There are seven Greyhound Café locations in Bangkok at Central Chidlom, Siam Center, J Avenue, La Villa at Ari, Major Avenue, Siam Paragon and Emporium Mall.
Crepes and Company – Crepes and Company is one of my top five restaurants in Bangkok and popular with Thais too. If you are sure the Thai girl you are taking out on a diet likes western-style food, then she will probably love Crepes and Company.
It's in an old-style Thai wooden house in a beautiful garden and, inside the restaurant is a little dark and cozy. Perfect for a romantic date. The food is Greek, Spanish and Moroccan, with a bit of French-style thrown in too.
The crepes are to die for and with many choices of stuffing. Salads are also fabulous, as is the lasagna and the moussaka. Desserts too are decadent with lovely cheesecakes, cream cakes, mousses etc. Crepes and Company is on Sukhumvit Soi 12, and is the perfect date place.
Mango Tree – Most Thai girls prefer Thai food to anything else so, if your date won't eat anything but Thai food, you can't go wrong with Mango Tree, and yes the food is delicious.
For appetizers try the Shrimp Satay, for entrees the Deep Fried Squid, Steamed Crab, Spicy Sea Bass or Masaman Curry. All delicious. They also have several choices of set dinner, if you don't want to go to the hassle of choosing dishes. Mango Tree has an intimate feel inside, and a lovely patio outside with live Thai music.
Prices are around 1,000 to 1,800 baht for a dinner for two. Mango Tree is at 37 Soi Tantawan, Surawongse Road in Bangkok.
Café de Laos – For phenomenal northern Thai and Laos cuisine, you can't go wrong with Café de Laos. Located in an old colonial style house, it's a wonderful dining experience for a date as it's so chic.
Don't miss their Laos sausage, sticky rice, Larb and Tom Yam Gung – absolutely delicious. The food is spicy but not too spicy for Thai girls, but you might want to be careful yourself! Dinner for two is in the range of 1,000 to 1,500 baht, less if you stay away from alcohol and have one of their amazing fruit shakes instead. Café de Laos is on Silom Soi 19 in Bangkok.
Any of these Bangkok restaurants should be wonderful places to take a Thai girl out on a date. Each restaurant serves excellent food, with friendly and professional staff and has a stylish, romantic atmosphere. Any Thai woman will love being on a date at one of these restaurants.