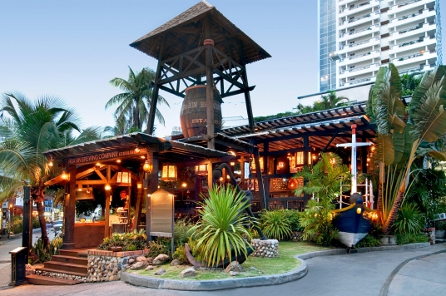 Hua Hin, only three hours drive from Bangkok, is Thailand's favorite beach resort. But, it is not all just sunbathing and water sports, Hua Hin has a fun nightlife with plenty of bars to visit. In fact, there are so many cool bars in Hua Hin, it can be difficult to stop yourself hopping from one to another – just so you can experience them all.
I am a pretty regular visitor to Hua Hin, and like a drink or two at night as well. These bars, I think, are some of the best bars in Hua Hin and a lot of the tourists and locals seem to agree with me, as they are popular every night.
Skye Bar – Skye Bar is on the rooftop deck of the Dune Hotel and is very popular, especially with the younger or trendy set. Up here, you get an amazing 360 degree view of all of Hua Hin, which is very romantic at night with the ocean, the twinkling lights of the boats and the town behind you.
It's relaxed and fun and the drinks are good too. I'm a fan of the Cosmolito as I love tequila and I ask for tons of ice so it's cold, cold, cold.
Skye Bar is right at the top of the Dune Hotel on Naebkehars Road, Hua Hin.

Black – I'm not usually a big fan of hotel bars, but the Sheraton Hua Hin Resort's bar, Black, is fun. It's a bar and night club in an enormous space. It's dark and a bit gloomy, but the atmosphere is electricity charged, like anything could happen (and often does).
At Black, the music is great too as there's often live music with Thai stars making frequent appearances. The only thing I don't like about Black are the beds that are secreted in various areas around the bar. It's been done a million times and just not than interesting any more.
Black is located at 1573 Petchkasem Road, Cha-Am just down the road from Hua Hin, about a five minute taxi ride.
Octopussy Bar – Okay, so the name leaves a lot to be desired, but if you like sports bars you'll love Octopussy Bar in Hua Hin. They have 11 huge screens showing sports at all hours of the day and night from Muay Thai kickboxing to Formula 1, football, tennis, volleyball, golf, baseball and anything else their patrons want to watch.
They also show the English Premier League, so are very popular with local expats on match nights. They also have a pool and billiards league and the drinks aren't bad either. The food is good too.
Located at 1-2 Poon Suk Rd in Hua Hin.

Mai Tai Bar – Another of what I think is one of the best bars in Hua Hin is Mai Tai Bar next to the Hilton Hotel as it's the perfect place to go if you don't want something too loud or you've no interest in the typical Hua Hin bar scene (lots of bar girls you can take home for the night is the norm in many Hua Hin bars, unfortunately). Mai Tai Bar is also filled with a lot of locals as well as tourists, which gives it a nice authentic flavor.
It's an open-air bar, so pleasant both during the day and at night, especially if you can sit near the outside of the bar and watch people walk by. Drinks prices are inexpensive ($2-$3 per drink on average) and the staff is friendly. You can also get pretty decent food here.
Located on Naretdamri Road next to the Hilton Hotel.

Hua Hin Brewing Company – I am a sucker for a brew pub and Hua Hin Brewing Company certainly doesn't disappoint. Price-wise, it's a bit more expensive than other bars around Hua Hin but the food is excellent.
Try their barbecue or some of their western dishes (unlike most Thai bars, they actually taste like real western food) and as it's family-friendly (it's owned by the Hilton Hotel) it's a good place to take the kids or grandma and grandad too.
And, while there is definitely an emphasis on meat dishes, they are also quite vegetarian-friendly.
Located right next to the Hilton Hotel on Naretdamri Road, the Hua Hin Brewing Company is enormous (has a fun shipwreck theme too), so you really can't miss it.
As Hua Hin is a place primarily for tourists there are lots of bars, with something for everyone's taste. Some nights I like the more mellow trendy bars and some nights I prefer the family-friendly bars that sell great food too. But, Hua Hin has bars in both styles with lots more in between.