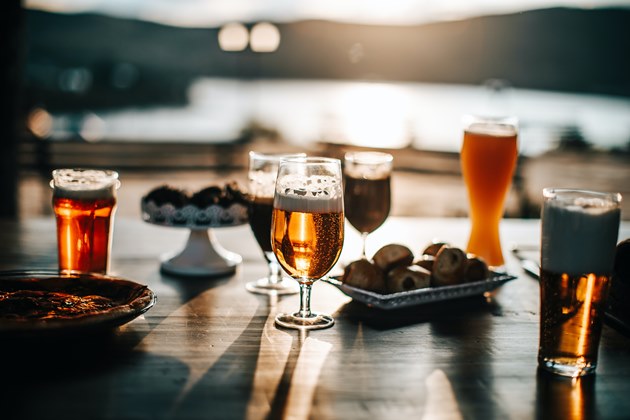 Best Beer Bars in Bangkok, Thailand: Imported and Domestic Brews
Thais usually drink one of two things. Beer or whiskey. I've always been more of a beer drinker than anything else so, when I moved to Bangkok, Thailand I was thrilled to see so many beer bars specializing in mainly….beer. Thai beer, imported varieties and sometimes specialty beers, Bangkok is a great place to try a few new beverages, but these beer bars are some of Bangkok's best.
House of Beers – When you talk about the best beer bars in Bangkok, House of Beers is the one everyone knows about. That's because they have six locations, a huge number of imported beers and they do some pretty amazing happy hours.
At House of Beers, check out the happy hour specials or just weekly specials before you order, as you'll often get things like buy one pint and get a half pint for free (perfect if you're there with a girlfriend, or someone who only likes to drink a small amount). Several days a week, they also offer specials where you buy a certain brand of beer and are given an appetizer or entree for free (yes, they also serve food and it is excellent).
You'll find House of Beers at Ari Garden, Ari Samphan Soi 11 in Bangkok, Rain Hill Mall at Sukhumvit Soi 47 and Nawamin Festival Walk near Kaset-Sart university, just to mention a few. Check out the House of Beers Foursquare page for more information.
Beerology – My favorite beer bar in Bangkok is a place called Beerology at Crystal Design Center. I love it because not only is it an incredibly cool atmosphere to hang out in with its beer garden and dark and cozy design, but they have a huge selection of both Thai and imported beers and even stock cider, which is my favorite drink.
Beerology also has beers on tap, which change often, and more than 100 other beers to try. They even have a decent menu of bar snacks and entrees, so you can actually stay there all night.
Head to Beerology on your first trip for their happy hour if you want to try a few of their beers on tap. Their happy hours run every night from 5pm until around 9pm, and are usually a case of buy a certain number of beers and get one for free. If you're with a group of friends, this can be a fabulous way of trying more of their specialty beers for a reasonable price.
Beerology is at Crystal Design Center on Pradit Manutham Road. The best way to get to it is by taxi, although if you're driving you can check out the map on the Beerology Foursquare page.
Beerosophy 101 – This is my recently discovered and much loved beer bar. Beerosophy 101 is out in the suburbs of Bangkok at the enormous Mega Bangna mall and has been designed with a European beer cellar in mind. That's why there are barrels everywhere and the bar has a more rustic feel to it.
Beerosophy 101 is actually owned by the same people who own Beerology (note the similar themes — learning about beer) — so they have a similar way of doing things. You'll find many of the same beers, bottled and on tap, that you'll find at Beerology and the food is great as well — although quite high in price.
Beerosophy 101 also specializes in fruit beers, which I drink when I'm in the mood for something lighter and, yes, they are extremely tasty.
Beerosophy 101 is in the Event Zone of Megna Bagna mall and entertainment center. It's a little way out of town, but well worth going to as you can do some shopping during the day, grab a light lunch and then head to Beerosophy 101 when they open at 5pm. Get details at the Beerosophy 101 Foursquare page.