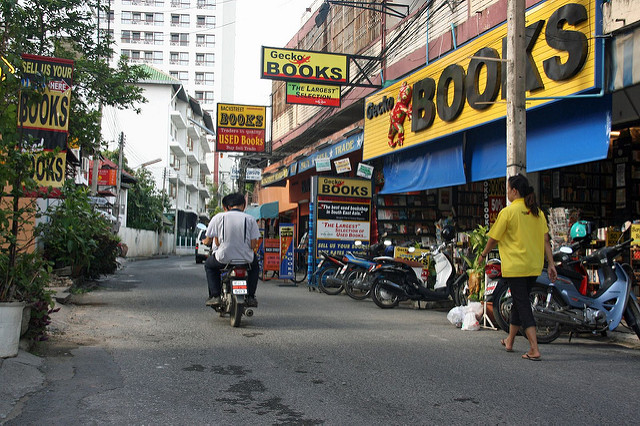 One of Thailand's most popular tourist destinations, Chiang Mia is beautiful, laid-back and, surprisingly, has some of the best English-language bookstores in Thailand. For a voracious reader, that in itself means my many visits to Chiang Mai has resulted in purchasing literally hundreds of books.
If you'll be visiting Chiang Mai or even living there for a while and love to read, don't worry, Chiang Mai has some wonderful English-language bookshops selling new and used books. These three are the best places to start.
Gecko Books – Probably the most famous bookstore in Chiang Mai, Gecko Books is the bookshop I always head to first when I arrive in the city.
Most of what Gecko Books sells is used books, all in excellent condition and on a huge variety of topics. From fiction to non-fiction, children's books to cook books, travel books to architecture, history, politics, business and religion – there's such an enormous selection, I rarely leave without at least ten books, sometimes more.
Gecko also has a small variety of new books but, on these at least, I've usually found I can buy them cheaper elsewhere, so I tend to stick with purchasing used.
The staff at Gecko Books is well-trained, friendly and helpful. They all speak English, and sometimes even another European language. They're also amazing at finding books you need, even so far as going to another of their branches in Chiang Mai and bringing the book back for you, sometimes within minutes.
Gecko Books started out with one original location but has done so well they now have the main branch plus three or four smaller branches and market stalls too.
I recommend starting out at the main branch of Gecko, just opposite the famous Thapae Gate, down a small side street opposite Art Cafe.
Be warned, while the bookstore is on the ground floor of a large building, it is open to the elements, so it can get a bit hot in there if you go during the heat of the day.
You'll find Gecko Books at 2/6 Chang Moi Kao Road, A. Muang, Chiang Mai 50300
Backstreet Books – Another one Chiang Mai's best book stores, Backstreet Books has been in business for more than 20 years and has a huge selection of great books.
The main thing I noticed when I first stopped off at Backstreet Books though, and a reason I've been back again and again, was in what good condition most of their used books are – something that cannot be said for some of Chiang Mai's other used book stores.
I figured out later, it's because unlike most of the other shops, they buy few books from backpackers, so the books you see in stock haven't been hauled around half of Asia stuffed in someone's backpack along with their dirty socks and moldy food.
At Backstreet Books, their store is also a more upscale-looking than some of Chiang Mai's other bookshops. It's full of light wood bookshelves, has hardwood floors and is sparkling clean and, yes, when the door isn't open, air conditioned.
A more pleasant book buying experience in boiling hot Chiang Mai and also easier on the books which are exposed to much less humid, hot air.
Backstreet Books says they have more than 70,000 books and I can believe it. I've bought everything here from chick lit to literary fiction, a Thai cooking book, a book on Thai history from the Ayuttayah period on up, poetry books, and a wonderful coffee table book on art from around the world.
Last time I was there, I found a Richard Russo book I'd been looking for and a wonderful book on British history. You want it, there's a good chance Backstreet Books has it.
The staff too is lovely. Knowledgeable, polite and unobtrusive – they leave you alone to browse unless you have a question or need help. My type of bookshop indeed.
Backstreet Books is at 2/8 Chang Moi-Kao Road, (off Thapae Road), A. Muang, Chiang Mai, right next door to Gecko Books, so you can hit both places at the same time.
Bookazine – Not a huge fan of Bookazine, particularly since they merged with Asia Books, they are still the best place to buy new books in Chiang Mai, simply because most bookstores sell the used variety.
The Bookazine branch worth visiting is the one located at Chiang Mai's famous Night Bazaar, not only because of their new books selection but also because you can shop at Chiang Mai's wonderful Night Market when you're done.
Not much in the more eclectic selection, if you're looking for a best seller on the lines of John Grisham, Stephen King, Helen Fielding or J.K. Rowling, you'll find it here. They also have a fair collection of Thailand travel and Thai culture books, as well as some of the expat-written fodder about falling in love with bar girls, so many coming to Thailand seem to enjoy. International newspapers, magazines and calendars fill up the shop.
While again, not the best English-language bookshop in Thailand, for new books in Chiang Mai it is the best option. Plus, they do have discounts on selected newly published books, which is a big reason I pick up several there when I'm in Chiang Mai.
Bookazine is on Chang Klan Road in Chiang Mai in the midst of the city's Night Bazaar.