The first time I visited Chiang Rai, Thailand nine years ago, it was a sleepy northern Thai town with cute shops, funky restaurants and a fun night market. Nowadays, it's a rapidly growing place, full of trendy cafes, art galleries and coffee shops and popular with both international and Thai tourists.
Boutique hotels have also begun to spring up in Chiang Rai; independently-run hotels offering friendly service in a beautiful and often exotic environment. Chiang Rai is a must-see place for anyone who enjoys a more relaxed vacation, and these three boutique hotels are the best the town has to offer.
Phu Chaisai Mountain Resort and Spa – This absolutely stunning family-run boutique hotel is located on the outskirts of Chiang Rai, with 50 bungalow villas built on a mountainside overlooking Chiang Rai and with gorgeous views of the mountains beyond.
Phu Chaisai Mountain Resort and Spa has everything from one bedroom to three bedroom villas, some with private swimming pools. Villas though are built to be environmentally-conscious so here you won't find TVs and internet, only the sound of the birds and the wind in the trees. Take a few good books. Your balcony overlooking the mountains is a gorgeous place to enjoy a good book.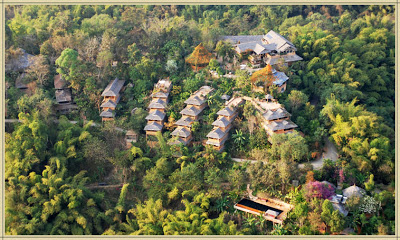 The hotel's main building has a pool bar with an infinity pool, there's a boutique and shop, a large meeting room that will accommodate up to 100 people, and a spa. Don't miss dining in the open-air restaurant that specializes in Thai food and goodies like pizza and northern Thai sausages.
Check out Phu Chaisai Mountain Resort and Spa's website for some truly beautiful photos, then book a villa.
The Legend Chiang Rai – Located on the Mae Kok River, The Legend Chiang Rai is a boutique hotel in a quiet area on the outskirts of town overlooking the mountains.
At The Legend, you'll have a choice of studios or multi-room villas, all with views over the lush grounds or swimming pool. Some even have their own private pool. Rooms feature en suite baths, air conditioning, satellite TV, mini bar, tea and coffee making facilities and a lot more. All rooms are decorated in beautiful contemporary Thai style and are superbly clean and well-taken care of.
The hotel has an open-air restaurant and a bar right next to the river, just lovely for a candle-lit evening meal, and there's even a beer garden where you can enjoy a barbecue or just an after dinner drink. Don't miss the spa too, offering both Thai and International spa treatments.
The Legend Chiang Rai has an excellent website and inexpensive room rates.
The Mantrini Boutique Resort – This boutique resort hotel in Chiang Rai has been featured in many Thai and international magazines, for its incredibly beautiful property and its superb service.
At The Mantrini Boutique Resort, you'll find 60 rooms and three suites, all decorated in light and colorful contemporary Thai style. Guest rooms are spacious and have private balconies or terraces, are air conditioned, and feature tea and coffee making facilities, TVs with satellite, mini bar, bathrobes and slippers, and hair dryer.The pool is lovely and there's a pretty deck area, where you can get some sun or just curl up with a magazine.
The hotel has a large restaurant, popular with locals as well as visitors, which serves northern Thai fusion food and international dishes. There's also a beautiful bar area, where you can enjoy a pre-dinner drink or a relaxing afternoon read.
The Mantrini Boutique Resort offers friendly service, in a perfect, quiet location just a few minutes by tuk-tuk to the center of Chiang Rai. The hotel often has excellent promotional rates, so check out their website before you book.
More Information:
Phu Chaisai Mountain Resort and Spa