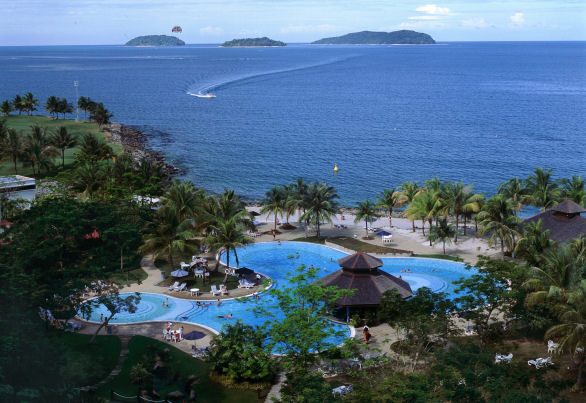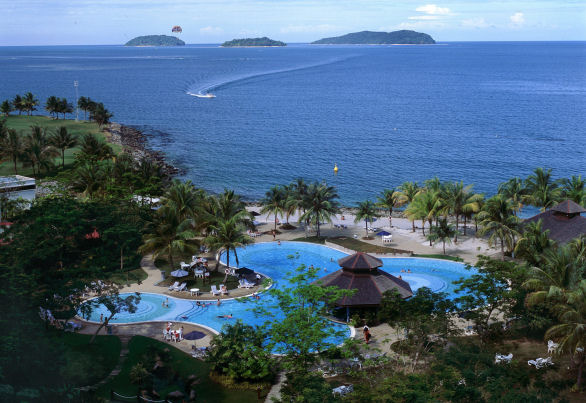 Kota Kinabalu is one of Malaysia's nicest tourist destinations. With its seafood restaurants, waterfront entertainment spots, beautiful beaches, nature reserves, national parks, excellent zoo and crocodile farm it's the perfect place for an outdoor family vacation. Kota Kinabalu is also home to a number of excellent budget hotels offering superb deals. At any of these Kota Kinabalu budget hotels, your family will enjoy clean, comfortable accommodation, great locations and excellent amenities, all for under $50 a night.
Pantai Inn – Situated right in the town center of Kota Kinabalu, Pantai Inn is a budget hotel that offers friendly service, nice accommodation and all in a great location, close to city shops, restaurants, cafes and tourist attractions.
At Pantai Inn, guest rooms are small but well-taken care of. You have a choice of room sizes – double, triple and twin, beginning at only $25 a night, with a triple for $35. Tax isn't included in the rate but even with added tax and service charge, rooms still fall well under $50 a night.
Guest rooms feature an en suite bath with shower, air conditioning, TV with cable and a small work area. There's free Wi-Fi throughout the hotel, private parking, a laundry and a dry cleaning service.
Don't miss having a meal at Pantai Inn's friendly little restaurant too. Open from breakfast until late dinner, the restaurant serves traditional Malaysian dishes at a very reasonable price.
You'll find Pantai Inn at 57, Jalan Pantai, 88000 Kota Kinabalu, just down the street from the Sunday Gaya Street Market.
Hotel Yaho – Another wonderful Kota Kinabalu budget hotel featuring extremely good deals, Hotel Yaho overlooks the famous Sembulan Waterfront. It's also only five minutes drive from the city center, and close to some excellent shopping areas. For trips further afield, there's a bus stop close by.
Each of the hotel's 71 guest rooms features an en suite bath with shower, slippers, flat screen TV, tea and coffee making tray, electric kettle, a work desk and an alarm clock. There's also free Wi-Fi
internet, a business center, free parking and an airport shuttle for a small additional fee.
Yaho Cafe serves snacks, light meals and drinks, and specializes in Malay and other Asian dishes. They open early morning and close late at night, so if you don't feel like leaving the hotel there's no need.
Room rates at Hotel Yaho are unbelievably cheap, starting at just $28 for a superior double or twin room.
The Hotel Yaho is at No.1, Lorong 14, Jalan Kampung Sembulan., Kota Kinabalu.
Courtyard Hotel 1 Borneo – Wonderfully located and is actually connected to 1 Borneo Mall (just think of all the shopping you can do), the Courtyard Hotel 1 Borneo has 157 guest rooms, all offering modern accommodation for a cheap price.
One of the best hotel deals in Kota Kinabalu, for only $30-40 a night, depending on room size, you get an en suite bath, flat screen TV with DVD player, hardwood floors, mini fridge, in-room safe, tea and coffee making facilities, iron and ironing board, a hairdryer and many of the rooms have a gorgeous view out over the ocean or across the hotel's pretty gardens.
The Courtyard Hotel 1 Borneo has a business center, if you still need to contact the office or clients, free Wi-Fi internet throughout, a stylish lounge and cafe, and an outdoor terrace with stunning views out over Kota Kinabalu. There's also a shuttle service that runs to the airport or into town for a very small fee. All of this for well under $50 a night.
The Courtyard Hotel No 1 Borneo is situated at G-800 1Borneo Hypermall Jalan UMS, 88450 Kota Kinabalu.