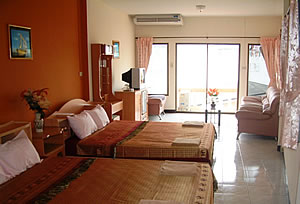 The first time I visited Hua Hin, Thailand's most popular beach resort, I stayed at the Top Marks Hotel. I traveled with a friend and, after problems with another hotel, both of us booked rooms at Top Marks. The best decision we made on our entire Hua Hin trip. Top Marks is a budget hotel that offers comfortable accommodation for a  cheap price. The location is incredible too.
Why Top Marks Hotel? – A couple of weeks before our Hua Hin trip, I booked two rooms at a hotel in Hua Hin town center that was recommended by an American teacher I knew. On the day we arrived in Hua Hin, my friend and I walked the two blocks from the bus stop to the hotel and checked in. We were both shown rooms that smelled to high heaven of damp and mold, with no television, dirty sheets and no views. For the price we were paying, we refused to stay there and immediately moved out. It was then I remembered Top Marks Hotel.
Top Marks Hotel was recommended by someone I knew on a Thai teachers' chat room. He'd mentioned the hotel was cheap, only a block from the ocean, and as it had been newly renovated it was about as nice as you could get for a budget price.
So, my friend and I headed off in search of  the Top Marks Hotel and, after a few minutes walk, found ourselves looking at what looked like nothing more than an open-to-the-air bar with a pool table in it. Typical of many bars in Hua Hin. When we enquired if this was Top Marks Hotel, the lovely woman behind the counter told us it was and that, yes, she had rooms available. She quickly showed us a couple of room choices and, immediately hooked, we booked rooms and moved in.
Rooms at Top Marks Hotel – The hotel has 19 rooms that are actually located down a small passage way in the back of the fronted-to-the-street bar and pool table area, so secluded and quiet. There's a small courtyard with steps going off it and several rooms on the ground floor with two more storeys above. My friend took a ground floor single room and I was given a deluxe room with a lounge area.
My friend's single room was small but, being a guy, he didn't care. My room was large,  light and on the second floor. It came equipped with cable TV, air conditioning, an en suite Thai bath (beautifully clean), and a refrigerator. It also had a seating area with coffee table, sofa and a couple of chairs. Lovely way to relax with a good book after a day on the beach.
Rooms at the Top Marks Hotel are very clean, maid service comes in daily and changes sheets and towels, and you also get a couple of bottles of complimentary water.
Location of Top Marks Hotel – You honestly cannot beat the location of the hotel, not only for the price (which I'll get to in a minute) but also for convenience. Just one block back from Hua Hin's main street with all its cafes, restaurants, bars and seafood piers, it was also just a block from the ocean. Every morning we would step out of the hotel, walk a block and be able to get breakfast, find an internet cafe, buy a newspaper or some pastries or just wander along the water front and enjoy the view.
Price at Top Marks Hotel – One of the cheapest hotels I've ever stayed at in Thailand, the Top Marks Hotel offers comfortable accommodation, quiet rooms, a lovely staff, a bar, a pool table and a small gym. For my friend's single room, he paid 600 baht per night, or $19.50. For my deluxe room with a lounge area, I paid the vast sum of 900 baht ($29.50).
After our initial nasty experience at the hotel we'd originally booked at, we couldn't believe what a great budget hotel we'd discovered with Top Marks. I've stayed at the hotel twice more since, and have loved it just as much as the first time.